Million of people use twitter. Twitter has also become one of the most popular & frequently used social media for sharing personal updates, photos and being self updates about the news and happening.
Twitter is also popular among Nepalese people. Many Nepalese people use twitter to update their personal updates, status, photos and so on. Twitter basically has a system of recording twittets, followers (people who follow you), following ( people whom you are following ).
Today we have enlisted top 10 Nepali twitter account who has the highest number of followers.
Twitter : @brb_laaldhwoj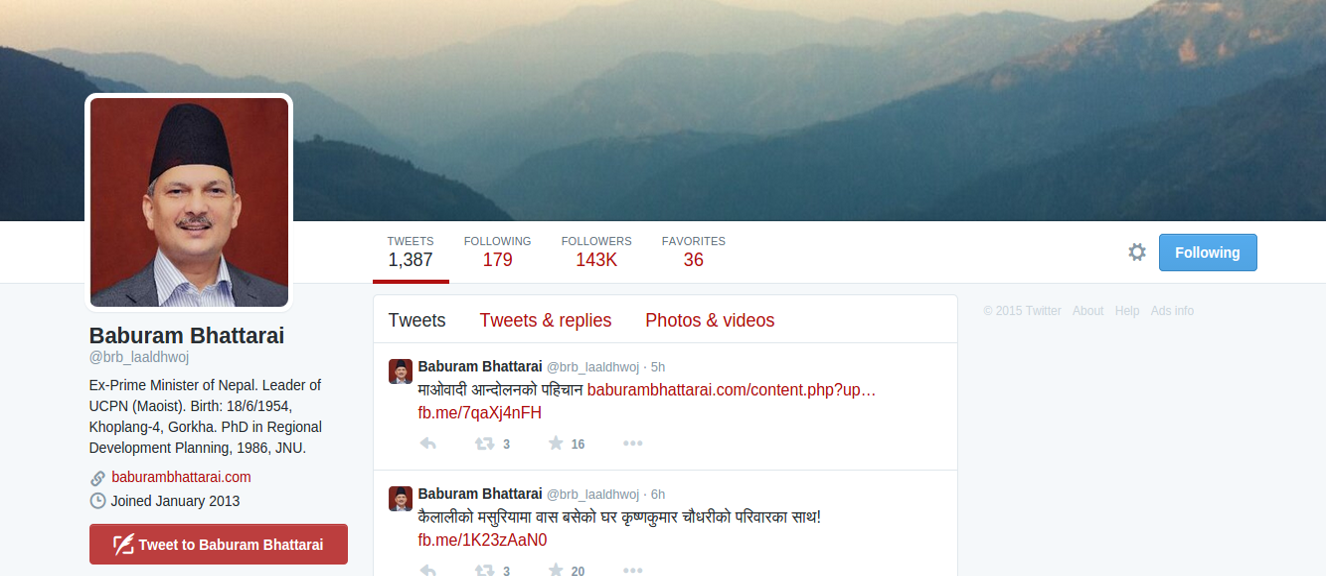 We have Ex-Prime Minister of Nepal & Leader of UCPN ( Maoist), Dr. Baburam Bhattarai on the top of the most followed people on Twitter with over 143K (1,43,000) followers ( as of Feb 7,2015).
Twitter : @LokmanKarki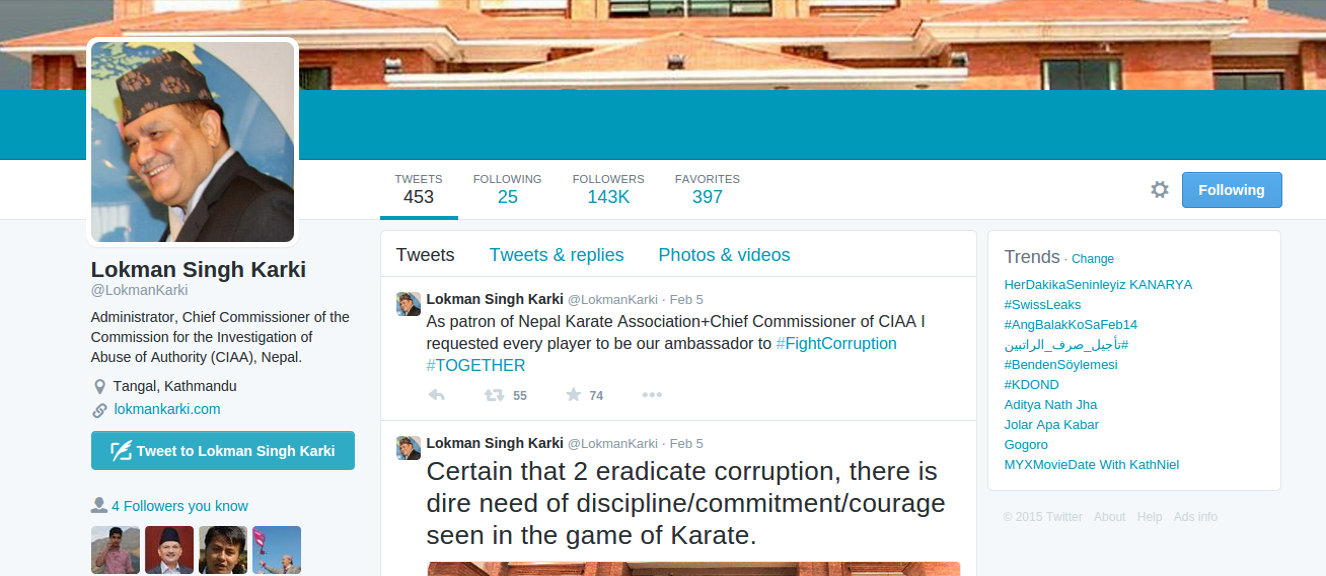 Chief Commissioner of the Commission for the Investigation of Abuse of Authority (CIAA), Lokman Singh Karki is the second most followed people on twitter with over 141K (1,41,000) followers ( as of Feb 7,2015).
3. Gangan Thapa
Twitter : @thapagk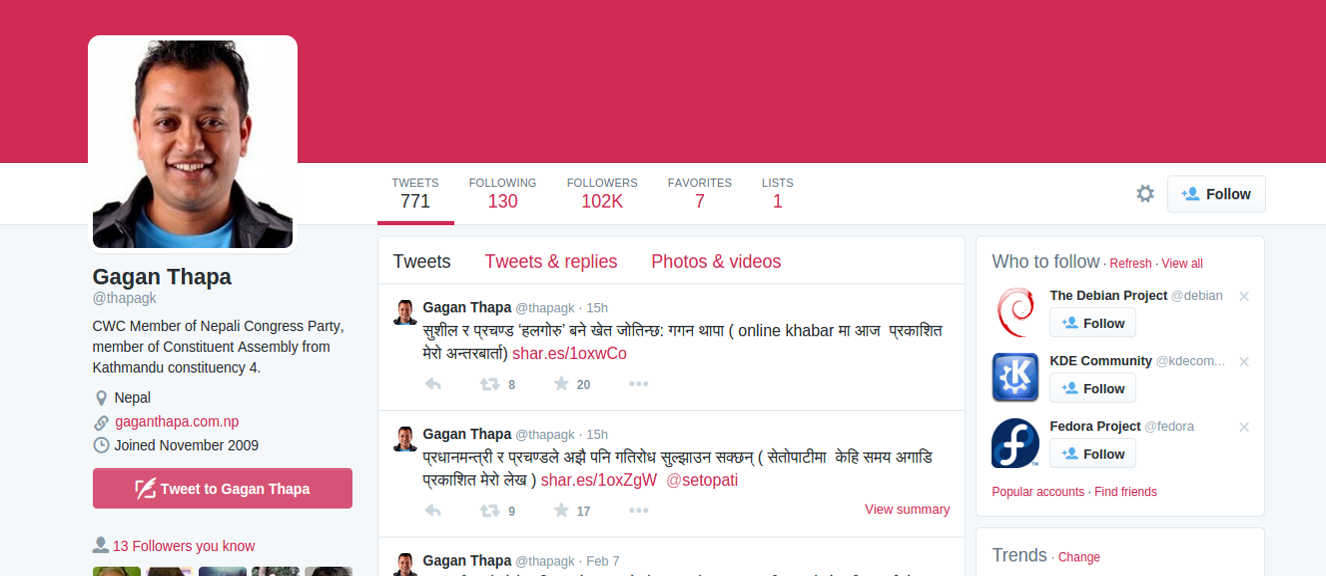 CWC Member of Nepali Congress Party, Gangan Thapa made on the 3rd of our list with over 102K (1,02,000) followers (as of Feb 7, 2015 ).
Twitter : @MishraRabindra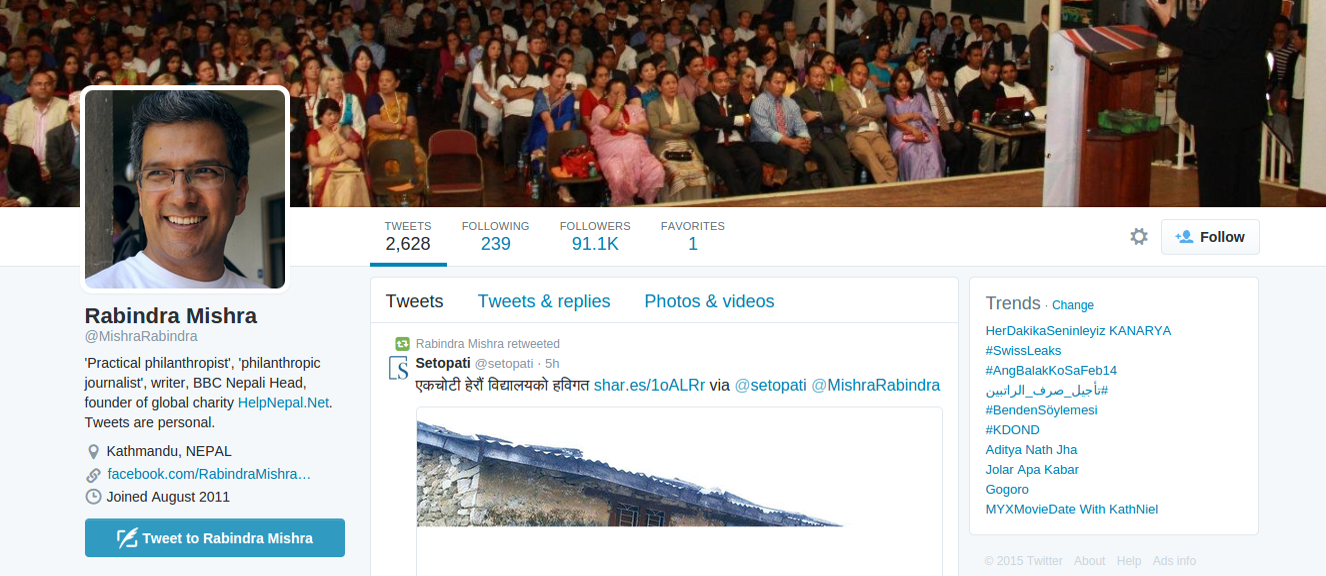 Fourth position goes to the jounalist, writter, Rabindra Mishra with over 90.8K (90,800) followers on his account ( as of Feb 7,2015). Mr. Mishra is chief editor of BBC Nepali service & founder of Help Nepal Network.
Twitter : @NrnShrestha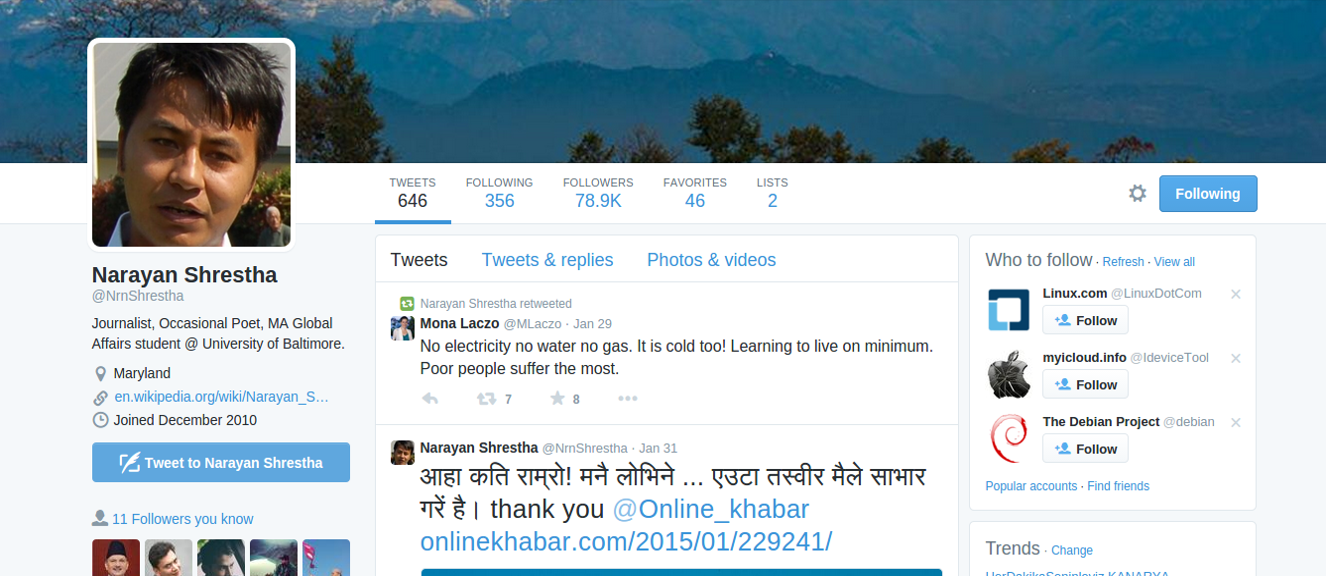 Popular and award winning radio & TV personality & Journalist, Narayan Shrestha has around 70.7K ( 70,700) followers on his twitter account. Mr. Shrestha is also seems vey interested in poet and he is Affairs student at University of Baltimore.
Twitter : @narayanwagle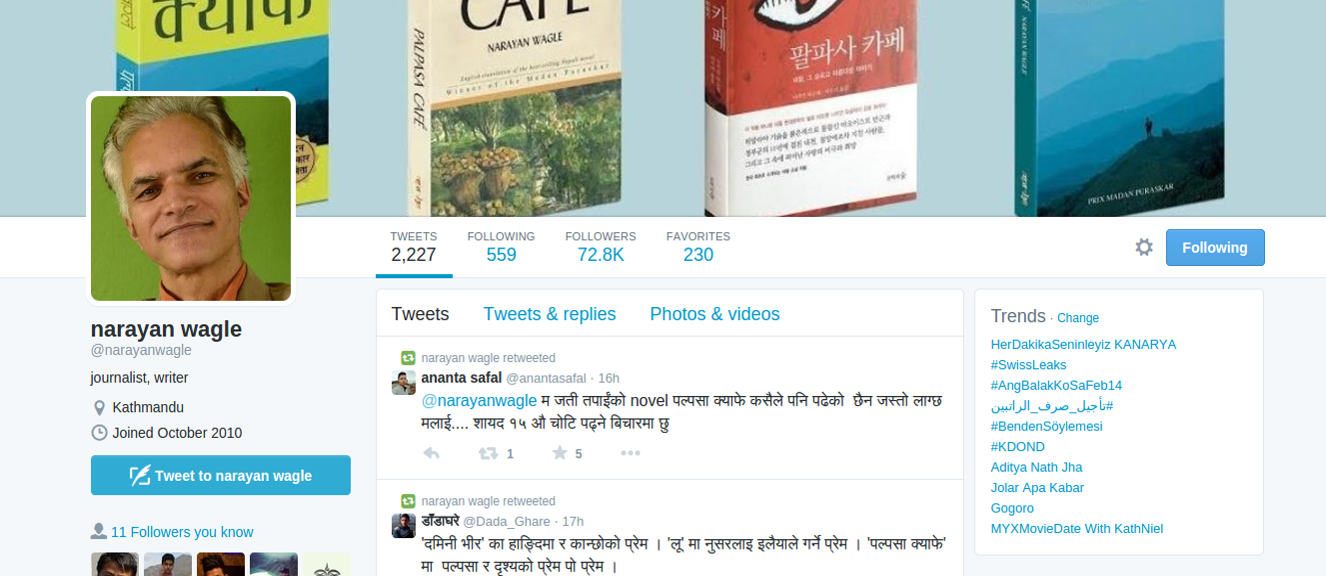 Narayan Wagle, Nepal's top Journalist, Writer & Novalist has 72K (72,000) followers on his account ( as of Feb 7,2015). Mr. Wagle has received Madan Puraskar for his book Palpasa Cafe. Currently he works in Setopati, popular digital newspaper.
7. NewsFromNepal
Twitter : @NewsFromNepal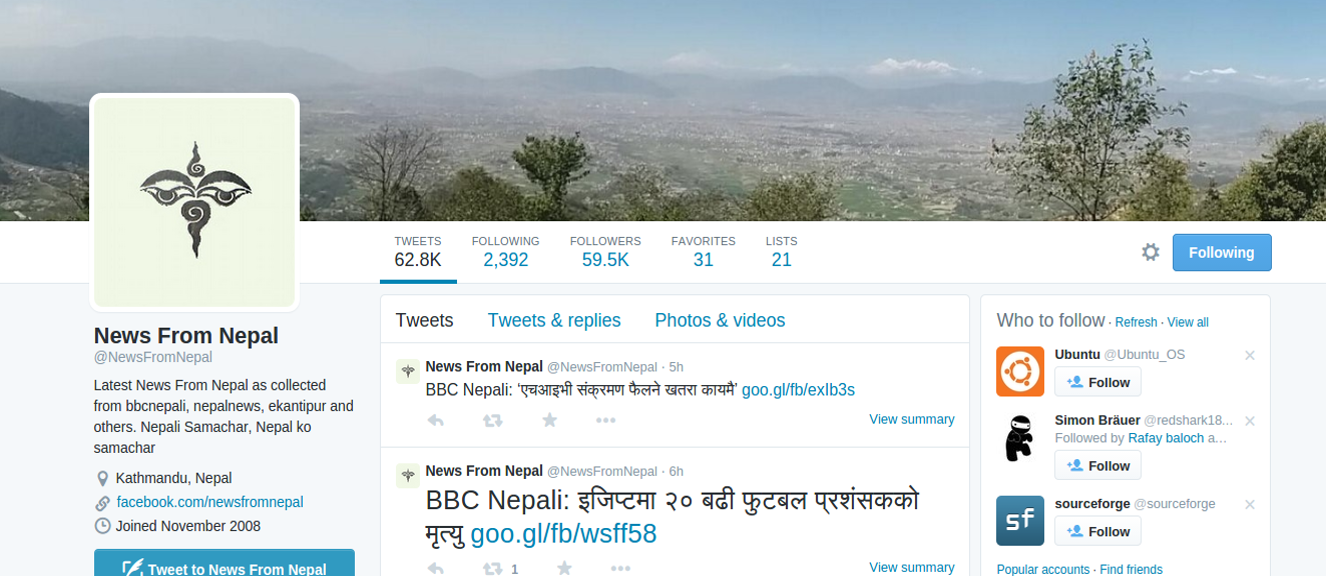 Nepali news updater NewsFromNepal has 59.4K (59,400) followers on their account ( as of Feb 7, 2015). They update latest news of Nepal from all source & from any media of the world. They have tweets more than followers. They also have some international followers like Barack Obama on their account to grab the latest update of Nepal.
8. Kamal Thapa
Twitter : @KTnepal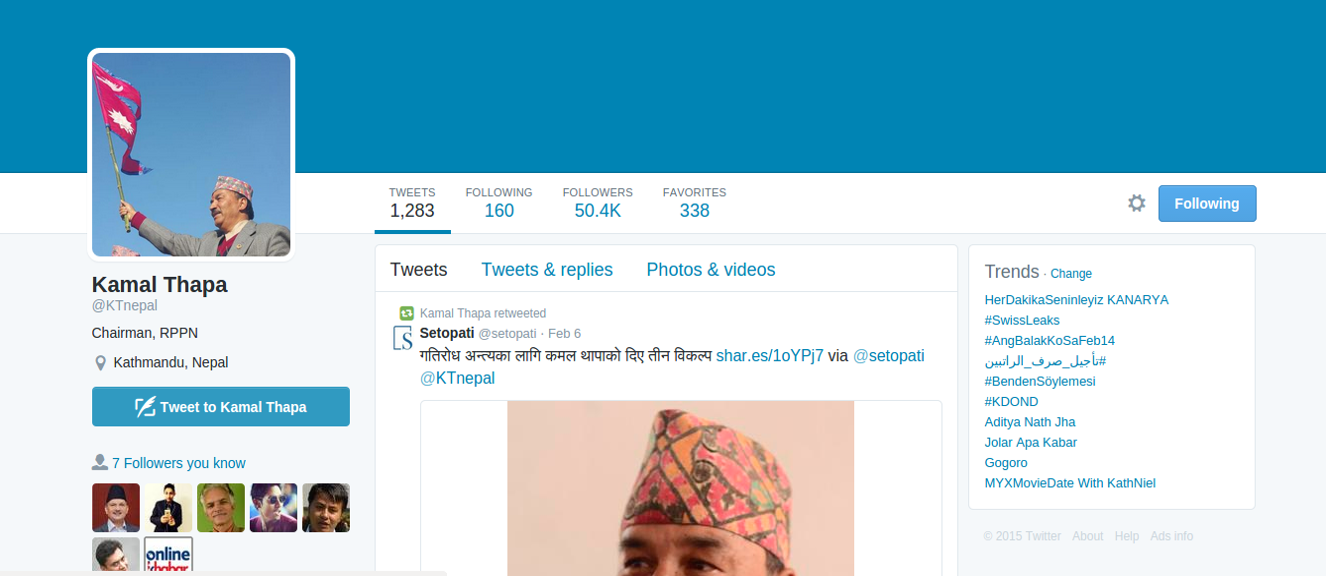 Chairman of RPPN, Kamal Thapa is also very popular among twitter with around 50.2K ( 50,200) followers on his account (as of Feb 7, 2015 )
Twitter : @sudheerktm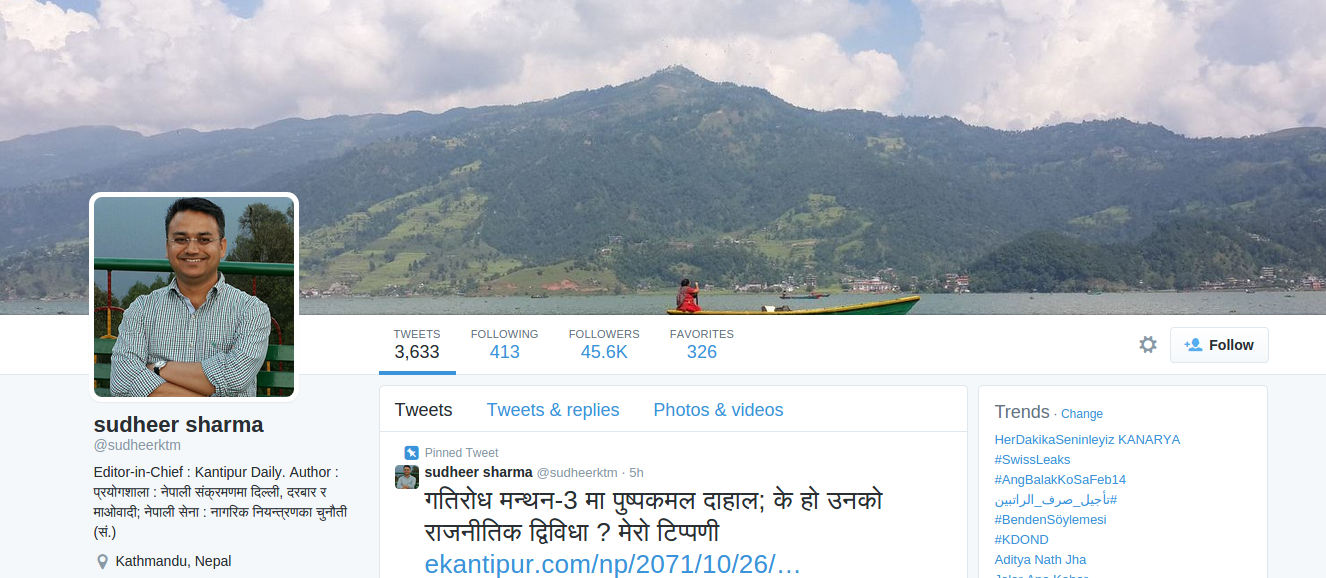 Sudheer Sharma, Editor-in-Chief of Kantipur Daily has 45.4K (45,400) followers on his account (as of Feb 7,2015).
10. Keshab Raj Adhikari
Twitter : @keshabraj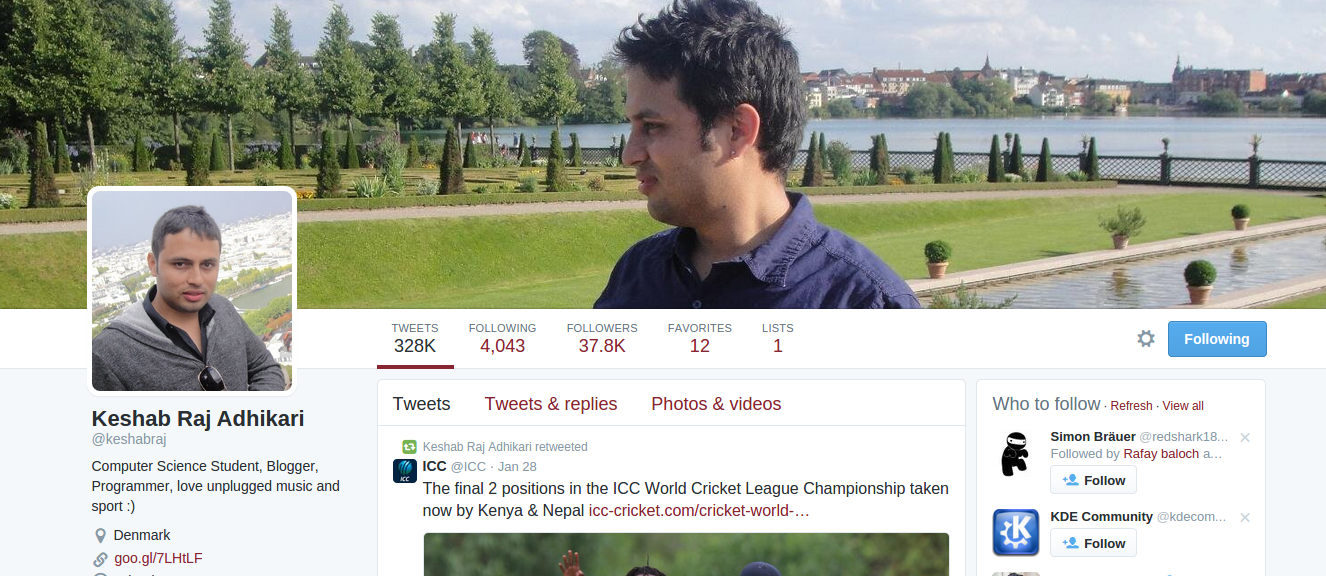 We have blogger, Programmer & Student all the way from Denmark on our top 10 list with 37.8K ( 37,800) followers ( as of Feb 7, 2015).