The concept of Teej is not new to us Nepalese who have observed the celebration of this festival year after year by women clad in green and red garments and sparkling bangles and pote malas. The three-day festival is an all-women festival celebrated in Nepal and some Northern and Western parts of India. Accompanied by dancing and folk songs, the festival of Teej in Nepal is a time for women to rejoice in their sisterhood and enjoy the company of friends and family. Teej celebrated by Nepali Hindu women is called Haritalika Teej and is observed during the end of August or beginning of September. It is also said to symbolize the oncoming of the monsoon season in Nepal.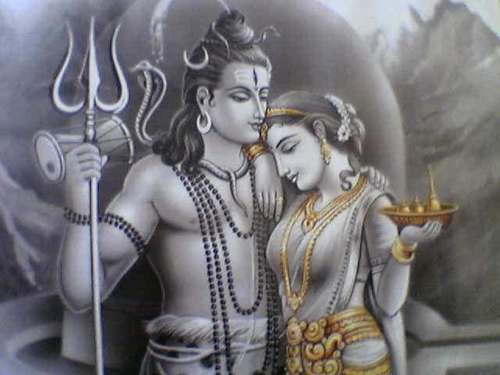 According to the Hindu mythology, the festival is dedicated to Goddess Parvati who showed unfaltering dedication and devotion towards her husband Lord Shiva. It is said that women who observe fast on the day of Teej are blessed by Goddess Parvati herself. The married women pray for the long lives of their husbands and a fulfilling family life while the unmarried women pray to find their perfect match in the future.
The first day of the festival is called Dar Khane Din, which translates to a Feasting Day. On this day, women gather together and indulge in various protein-based and nutritious food items. Singing and dancing can be observed on various streets with women feasting on great amounts of food to last the next 24-hours that they will observe the day-long fast on.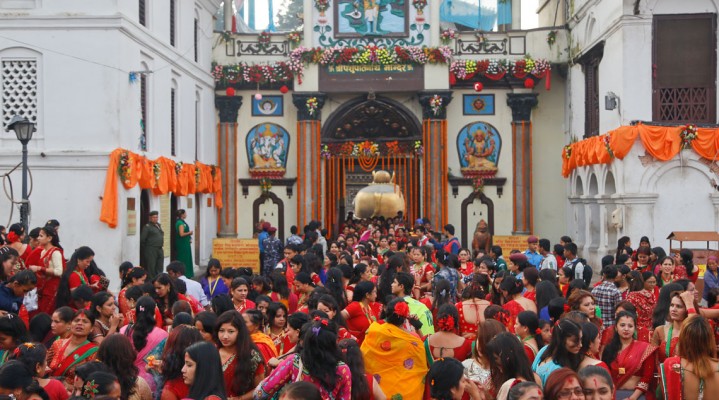 The second day is the Fasting Day, where women observe rigid Nirjala Barta (fast without water or food) and line up in the premises of Pashupatinath temple to worship Lord Shiva. The sight is that of long queues of women in red and green waiting to get a glimpse of the Shiva, be it under the scorching sun or pouring rain. The sight of women fainting and being rushed to the hospital is also not very hard to observe on this day. The last day of the festival is called Rishi Panchami when women bath and cleanse themselves in the nearest rivers to rid themselves of all sins and return home with a purified mind and body.
In the past decade, we have observed various shifts in the way that Teej is celebrated owing to various reasons such as women empowerment and involvement in the working sectors. The way that we knew Teej to be in the previous years has slowly but surely changed to match the necessities and tastes of women celebrating Teej all over Nepal. Some of the shifts have been noted down for you to reminisce about how Teej was celebrated in earlier days:
From a three-day to a month-long festival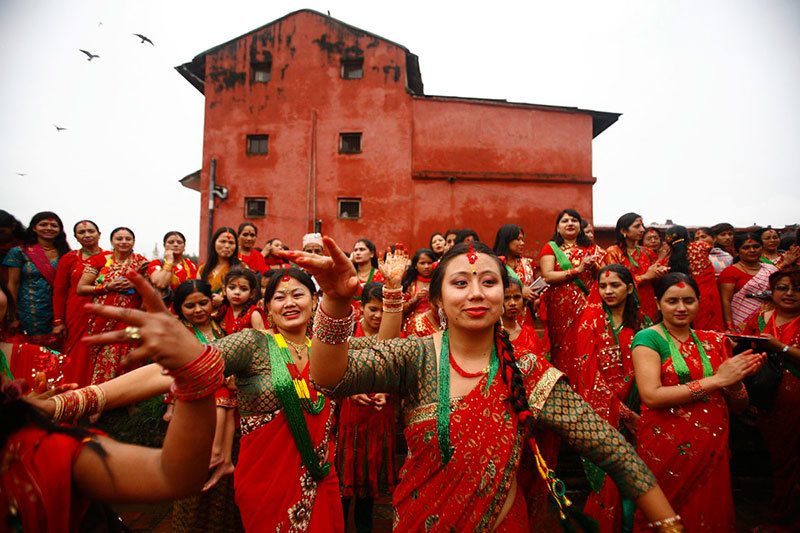 While originally Teej is a three-day festival and used to be observed for exactly three days in the previous years, the recent years have seen a prolonged duration of the festival. Women start getting together to celebrate Dar Khane Din as early as a month before the fasting day. This is mainly due to the various social settings that women are partaking in and having to show their presence at every invitation in a day is impossible. Instead of just visiting their maternal homes like in the earlier days, women now celebrate Teej with family, friends, and colleagues separately, which prolongs the festival by almost a month.
From neighborhoods to banquets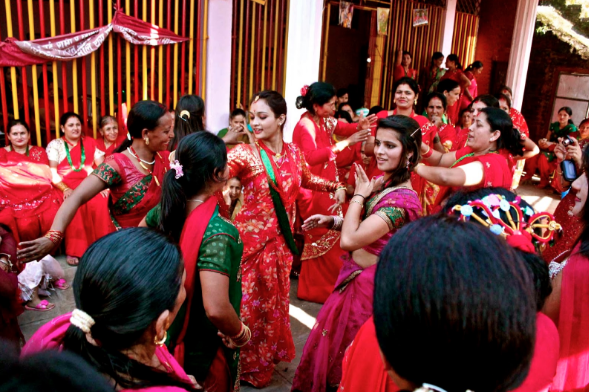 In the previous years, Teej would be celebrated in the neighborhood and women would take turns inviting friends and families to their homes to enjoy sumptuous home-cooked meals. These days, groups of women rent out banquets or party palaces for Teej gatherings and have stopped spending hours of effort on preparing food items. The working women do not have the time to prepare such a huge fest so have started resorting to booking banquets that serve feasts while they enjoy dancing and singing with their friends. Banquets are making huge profits from this trend in the month of Teej, which would otherwise be an offseason for party halls.
From rigid to lenient fasts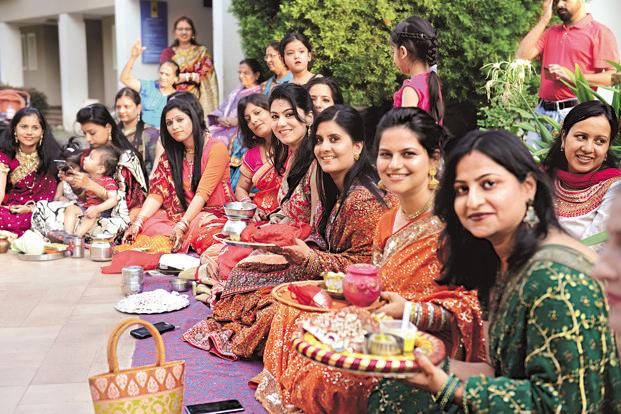 The ritual of Teej requires a woman observing the Teej fast to not intake any edibles, both water, and solid foods, throughout the 24 hours of the day. This is considered to be unhealthy and not feasible for working women who have begun being lenient towards their fasting rituals by including intakes of liquids and fruits into their diet throughout the day to avoid weakness and health risks. Although the ancient tradition of rigid fasting is being lost in the process, it is necessary to understand that such fasting rituals are barely possible without health concerns for the women of today who have work to attend.
From street shops to fests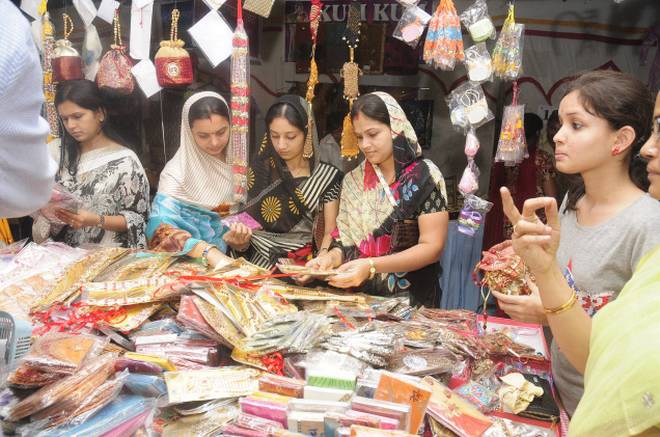 In preparation for the month of Teej, women shop for beautiful attires and ornaments. While earlier women visited street shops individually to purchase garments, ornaments, and accessories, Teej fests are being organized for the ease of shopping these days. These fests include stalls of every item related to Teej starting from Mehendi to sarees and ornaments. These fests are mainly organized in malls and have provisions of various discounts for women for Teej, which makes the prospect of shopping at fests even more luring.
What are other shifts in Teej that you have observed from the previous days? Let us know in the comments below.