Yarsagumba, also known as "Himalayan Viagra", is often found at altitudes of 4000m to 5000m throughout the Himalayas and on the Tibetan plateau. It is used as a medicinal herb to cure cancer, decrease fatigue and increase energy.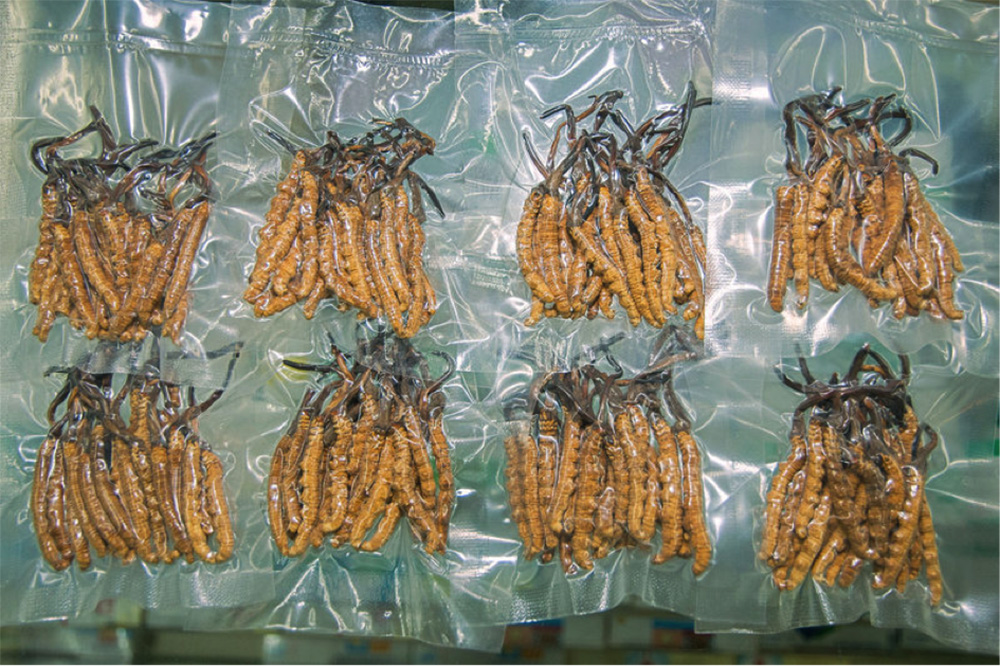 The harvesting of Yarsagumba occurs during the premonsoon season (May-June), where thousands of people travel to Dolpo, Rukum and Manang districts; where Yarsagumba is known to occur. Among these, Yak Kharka in Manang district is considered as the most popular collecting area which is about 4020m on the Annapurna Trekking Circuit.
On their way to collecting Yarsagumba, many individuals suffer from acute mountain sickness (AMS), while few resulting in death. Many of the collectors return from elevations below 2000 m due to steep cliffs, slippery snowfields, and swollen rivers. Yarsagumba collection has also resulted in conflicts as seven men who came from Gorkha to pick Yarsa were murdered by local people.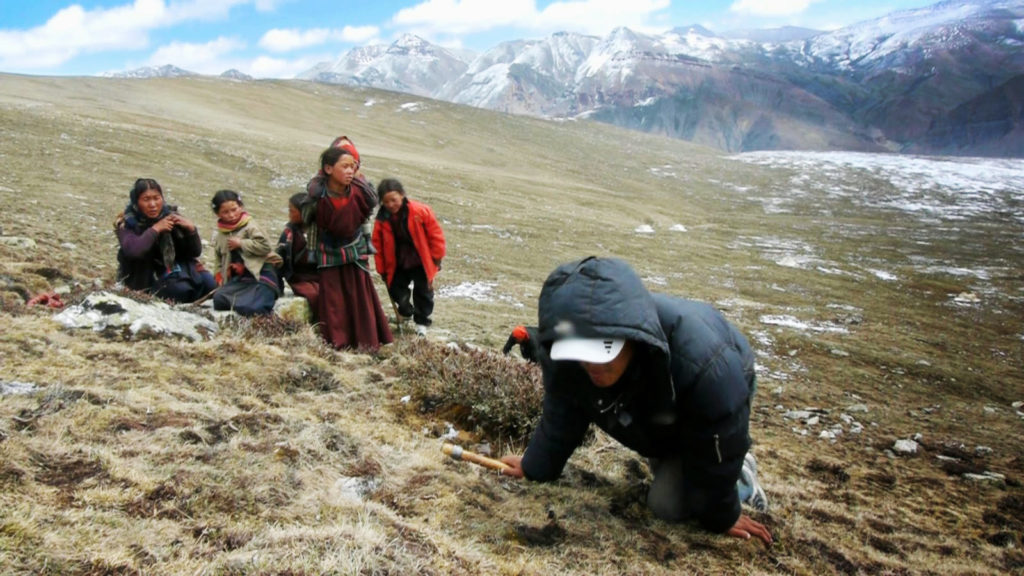 Collection of Yarsagumba has made a major change in the living standard of the rural people as they earn around Rs 600000 by selling the Yarsagumba. Among the 500 different species of yarsagumba, 11 are found in 25 districts of Nepal. The government's revenue collection is also increasing as more and more people are rushing to pick up yarsagumba.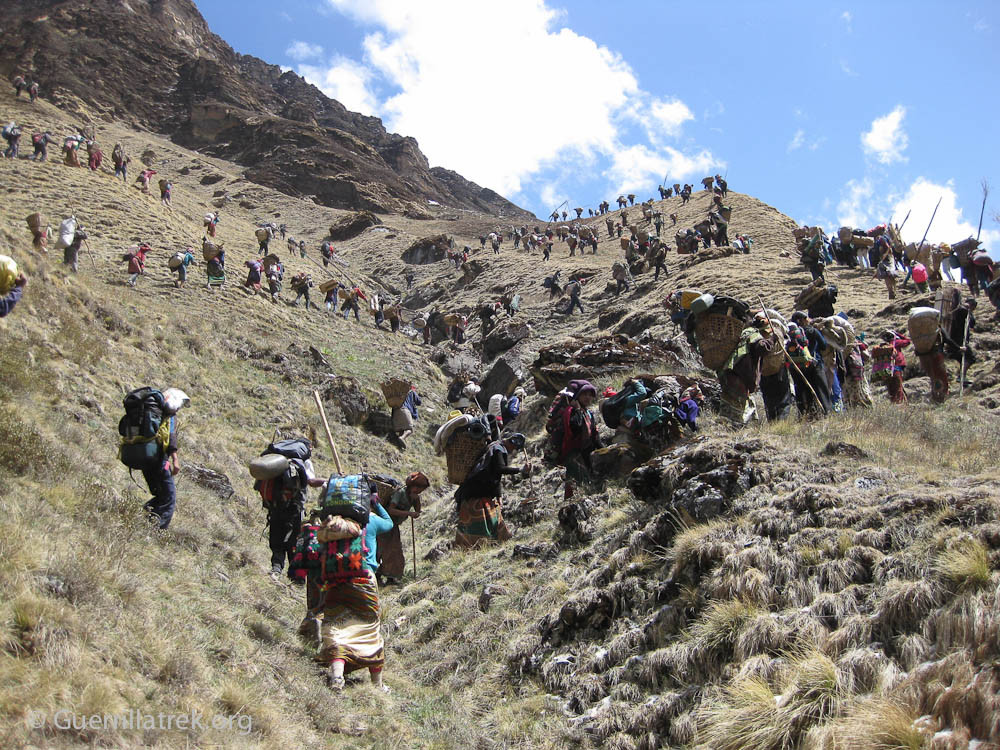 Children are taken along since they have better sight and agile fingers to search for it. During the season, many schools and colleges are closed and teachers along with the students go for the hunting of yarsagumba.
The entry fees are charged to lower the number of people collecting yarsagumba. The local residents are charged NRS 8000, whereas, people from other districts are charged NRS 16000. Many individuals who cannot afford to pay such high fees take out loans in their home villages. The price the buyers pay depends on the size of the yarsagumba. For a small specimen, they are charged NRS 200, for medium NRS 300 and for large NRS 500 respectively.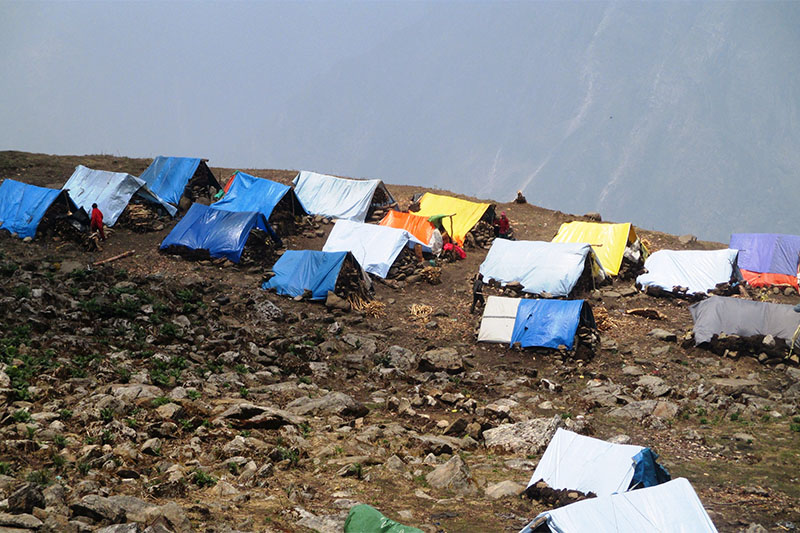 Majority of the people live in tents or in shelters consisted of tarps held by rock walls and few of them stay in local lodges. There are no toilet facilities for those living in tents and as a result, open defecation is common. They keep themselves warm with the use of sleeping bags or blankets during windy and rainy conditions at night.
Collectors start their hunting early in the morning and usually eat their meal only once in a day which they cook themselves in the evening. Many individuals hike up with little or no water as a result of which they suffer from respiratory and gastrointestinal health problems. To provide some aid to the collectors, there is a temporary police post in a large tent. These posts are run by a few health volunteers who have minimal medical training.
The collectors live in rigid conditions at a high altitude with poor sanitation and shelter, vigorous work and limited availability of food. They risk their lives in search of yarsaguma as the demand has been increasing for yarsaguma.