Women Wrestling is something new for Nepal and the most prominent name in Nepal's female wrestling is Bhagwati Khadka. She is the first Nepali female wrestler and probably she is the one who inspires the whole generation of Nepalese female into the Wrestling industry. But, for Bhagwati Khadka, it was not a comfortable journey.
Also Read: Most Famous Female Athletes Of Nepal
The country where mass population is still under the dogmatic beliefs and women still considered only to manage households, such beliefs and tradition has made Bhagwati's wrestling journey much harsh and struggleful. But putting every traditional asides, she has emerged as the first Nepali female wrestler and currently, she is engaged in grabbing the attention of young Nepalese female into this profession.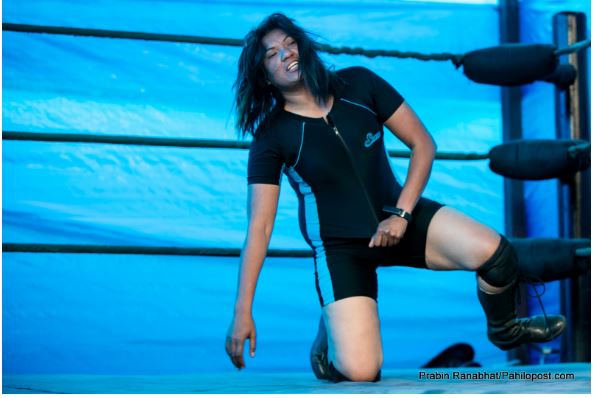 Bhagwati Khadka initiated the Nepal Women Wrestling Foundation during 2017. Her aim to do so is to provide the proper training and stability for new female wrestlers. In one of her interview, she stated that:
I had no money, no support from the government. It took 3 months to go through the administrative paperwork. It never takes that much time. But it did for me. I think people had trouble getting used to the idea women can fight.
In 2016, due to her skills, she was invited to join Ohio, United States for the training but to attend training she required the approval from the Ministry of Sport. However, her request was not approved by the government because the government officials still did not consider Women Wrestling as a Sport. These kinds of internal circumstances really makes it hard for Nepalese female wrestlers to initiate their career in this profession. Even most of the people of Nepal did not want to see Nepali female in the ring and in regard of these kind of thoughts, Bhagwati Khadka said;
A Lot of people tried to stop me. Mostly badly talking about what I was doing, and Newspapers wrote bad things about me. On Facebook, people were posting pictures and, making fun of me. Men Wrestlers were also against me. Nobody wanted to be our referees.
During these time, female wrestling in Nepal was almost about to die, but the world famous Muaythai fighter and 2-time gold medalist Gunaraj Rutchal came forward and became the referee for the match and he also accepted the invitation to become one of their chairperson. And this event helps to get some international recognition for Nepal Women Wrestling Foundation.
Currently, another rising name in Nepal's female wrestling is Asmita Jureli who was trained by the Himalayan Tigers. Jureli and Bhagwati both are initiating many programs and efforts to make young female Wrestlers' career less struggleful.
Check Out Other Interested Article At Our Site OMGNepal!!!!