Stand-up comedy is something that has always grabbed my attention. A form of art I would say, where one just goes to the stage with a goal to invoke certain emotions among the crowd and the crowd comes up with a fusion of laughter.
Comedians come up with a solo act on different topics which are relatable to the daily life of ours. The actions that we get from the people around, the society, the drama that we face every day seems a little frustrating, but to stand up comedian that's the show. They portray the stereotypical issues of our society that are so wrong in the funniest way possible leaving a unison of a laughter. But when you think of it in depth, it's just sad. But, a stand-up artist showcases it so well and leaves a laugh even in the darkest ones.

The culture of Stand-up comedy first started in America in the 1930s and 40s, that's when it started to take shape and attracted a number of audiences. It then started to move around, and now we have got it in Nepal as well.
Stand-up comedy shows in Nepal has started recently; it has been a year or so. There might have been stand-up comedy shows, but the trend of solo acts in cafes and restaurant are just starting.
To know more about this culture in here, we got in touch with one of the emerging stand-up comedian, Aayush Shrestha, who has become one of the crowd's favorite.

Aayush Shrestha, a computer engineer by profession, part-time teacher and standup comedian by hobby, wasn't really into the field of stand-up comedy from his childhood but thought the idea it was pretty neat as he grew up. Aayush along with his friend used to think of stand-up comedy as a fun thing to do and wished there was a scene of it here in Kathmandu. He had been seeing stand-up comedy happen across the world, but had some uncertainties on it happening in Nepal. However, when he saw the trend of it in India, he saw the possibility here in Nepal as well.
Let's see what else he has got to share with us.

How did you get into this field?

I always thought stand-up comedy was fun and it would be a nice thing to do. I have been seeing it for a long time now. I and my friends thought it would be a nice idea if we had one here in Nepal as well. One day we heard of this open mic night in NexUs cafe which happened every 2 weeks. So I thought to go there and give it a try. First attempt wasn't so bad, so we went and performed again and the response was overwhelming and I enjoyed it as well.

Your act is mainly focused on politics, the relationship between our countries and other; any particular reason there?
There isn't really a particular reason there. My primary concern about the act is whether it is funny or not. Whether it's making the audience laugh or not, and in Nepal, the topic of politics work pretty well.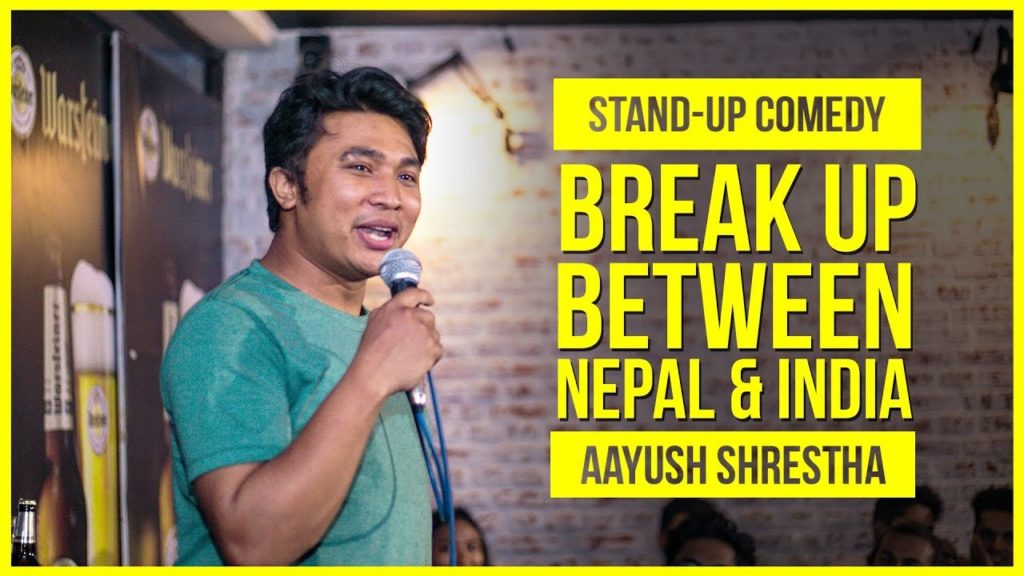 Your favourite comedians…
I would say George Carlin would be the best comedian ever, Jerry Seinfeld; the best comedian alive, along with Bo Burnham and Manoj Gajurel.
 Do you plan on pursuing this in future as well?   

I am not so sure at the moment. I plan on continuing it as long as it is fun.
    

Apart from the stand-up comedian Aayush, how would you define Aayush? 
 Full of curiosity, attention seeker
Things to be known of while delivering a solo act.
Be aware of the audience; what they prefer. The delivery process, the writing process, everything should be neat and presentable. Keep in mind the kind of joke it is, the audience you are delivering it to and just BE A TANK AND GO.