The vastness of diversified culture and tradition of Nepal could not be reflected through its geographical structure. More importantly, the city of glory, Kathmandu, is found to be mentioned in much ancient Hindu text like Ved and Puranas. And as time passes by, the Nepalese unique culture and tradition pass on generation to generation, and still today, many ancient tales and stories has kept ancient Nepal alive in the heart of its people.
Today we will talk about the Mystical Creatures Gurumapa, which is very popular among the Kathmandu indigenous community, Newars. According to Newari tales and legends, Gurumapa is believed to be an eater of a human child and it describe as the ugly face monster who always starves for a flesh of a human child.
It's all started with the person name Kesh Chandra who used to live in Itumbaha, a sacred country yard of Kathmandu. According to legends, he was addicted to gambling, and he has lost all off of his fortune in a gamble. After getting broke, he went on to live with his sister, but the obsession for gambling led him to steal a plate in which he used to eat a meal at his sister's home.
Poor Kesh Chandra made nothing out of the stolen plate, and shamelessly he returned to his sister's house. As he enters inside, his angry sister was eagerly waiting for him to teach him a lesson. So she prepared a meal for Keah and poured all food at the floor. Guilty Kesh got hurt so deep with his sister's behavior, but he did not refuse his sister's meals; instead, he put the meal on his handkerchief and left his sister home.
Sad Kesh went on to wild with a pack of his sister's food. However, after a long march, he unwrapped his handkerchief to eat, but the meal was rotten, and there were maggots all over the food. Hungry Kesh sat under the giant tree and decided to spread the food into the sunlight and went on for a nap. After he woke up, he found that Pigeons has eaten all of his food and by seeing that, he broke into tears and began to realize all of the mistakes he had done before.
Suddenly he saw that the pigeon's droppings who ate his meals were turning into gold. His tears fades as the light of gold shines all over the place . Thereafter he started to collect gold. But, as he was collecting scattered gold, he saw a gaint ugly looking creature was slowly crawling from the woods towards him, by seeing it Keah realized that it was a Gurumapa.
As the Gurumapa went close, it felt something, something like smell of prey from Kesh Chandra, and clever Chandra made a deal with Gurumapa, that he will take the creature to the village where he can eat fresh human flesh, but in return, Gurumapa must have to leave him.
The deal was made between evil and human, which caused the death of many children of the village and after disappearance of many children the entire village, decided to get rid of Gurumapa.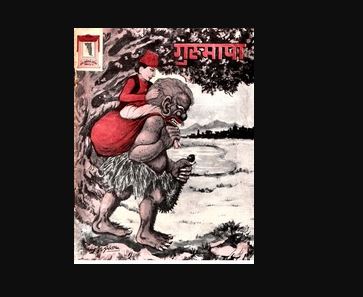 They worship for several days and weeks and their hard worshipping was for Gurumapa. finally, the creature came in front of the villagers, and villagers offer him delicious cuisines and foods and made a promise to Gurumapa that if he leaves the village then once in a year, they will come to Gurumapa to feed him with delicious meals.
Evidently, Gurumapa accepts the requests of villagers, and according to myths, Gurumapa was settled down in Tinkya, which is known as Tundikhel in modern Nepal. And to this day, every year some Newari community of Kathmandu prepares food for a Gurumapa and leaves it on the Tundikel field.