Mad Honey is the red and pale Honey with the earthly smell and rich texture. It is derived from the wild honey bee known as Apis dorsata laboriosa, aka Himalayan Giant Bees. It is unique as it can only thrive in the mountain regions and the harsh climate.
It is found in the Nepal Himalayan region and specifically in few districts like — Rukum, Lamjung, Kaski, Myagdi, Jumla, Jajarkot, Sindupalchok, etc. During spring and autumn, when flowers bloom, Honey forages on plants like Rhododendron far from the Himalayan region contains a wonder chemical called Grayanotoxin, which is intoxicating.
The honey bee makes a nest on cliffside protecting hives from direct sun, rain, and wind. The mad Honey is rich in anti-oxidants, has excellent recreational value, and also is used as a sexual stimulant — a natural aphrodisiac food.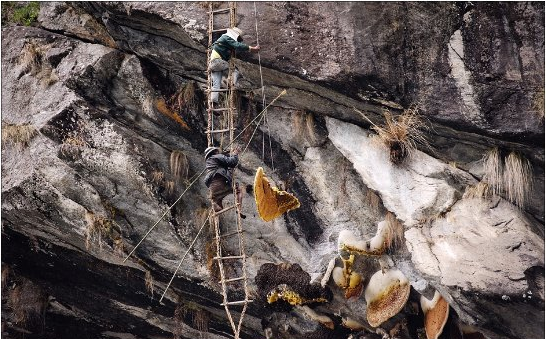 The red to pale Honey harvested from the cliff gives you a buzz effect and makes you euphoric. Meanwhile the several scientifically proven use of Mad Honey are as follow:

Used as a recreational drug
Boost Libido
Increase Athletic Performance
Strengthens immune system
Rich in Anti-Oxidants
6.Remedy for hypertension
Mount Everest, Annapurna Circuit, Pokhara, Kathmandu are the most common destination for visitors who come to Nepal. But Nepal lies beyond mountains and cities. The culture and tradition of the country are equally productive and unique. However, Honey hunting is one of the rarest traditions that has been passed from one generation to another, mostly by the Gurung and Tamang community of high mountain regions of Nepal.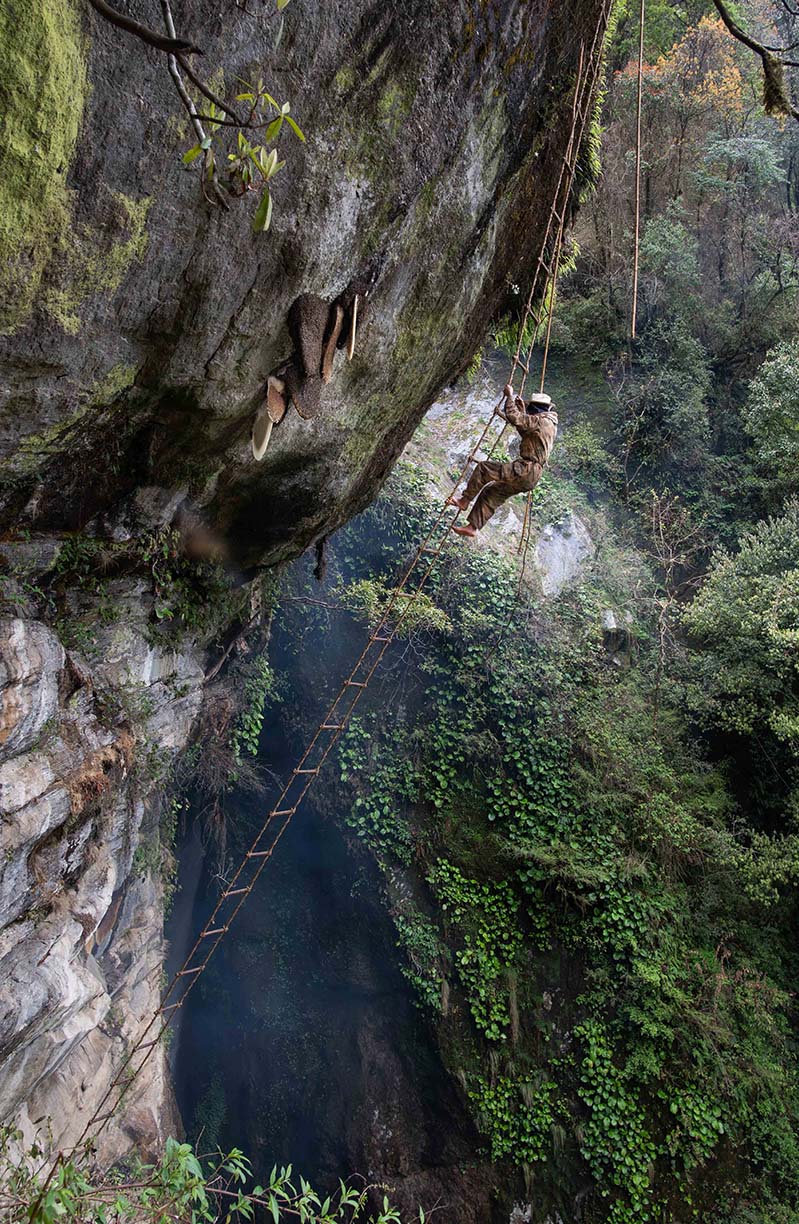 Mad Honey is harvested from the cliffs by climbing hand made a ladder of braided bamboos. Hunters gamble their lives to collect the Honey.Honey hunting is not just a task of a day; it is followed by a series of events and rituals. Firstly, the hunters, along with the community members, hold a meeting where they decide about when to commence the honey hunting and who all will be involved in the process. The rope ladder is soaked in the water before going for hunting.
An auspicious day for honey hunting activity is selected by the pujaris. Tuesday is said to be the most auspicious day and Wednesday as an inauspicious day. They perform a ceremony to ensure the favor of God and maintain the sanctity of the cliffs. They offer flowers, fruits, and sacrifice goats and chickens. The honey hunters share familial bonds and feelings of togetherness and cooperation among them. They perform this life-threatening work with a dream of ensuring continuity of the honey hunting system.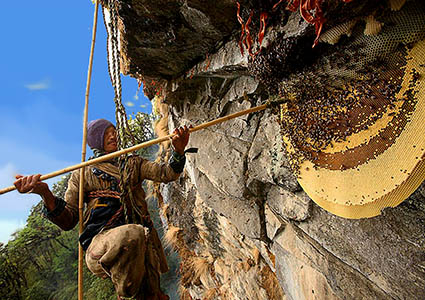 With the ideology of progressing together, they commence their journey together, and the professional elders teach the younger ones. They surpass the wave and mass of angry bees with a dream to preserve age-old tradition and get the mad Honey straight from the lap of nature to our doorsteps.
Extra Dose: If you want to buy these purest mad honey or book an expedition. You can get it from local entrepreneurs of Best Mad Honey team. They provide global shipping. Find them here, Best Mad Honey.