The abundance of biodiversity is a significant aspect of Nepal. Nepal has a wide diversity of plants and animals due to heterogeneity in climate, from tropical to arctic. Fauna variability is a prominent feature of Nepal. This article will put some light on the bird's species that only found in Nepal.
Furthermore, Nepal is a significant hub for species diversity with vegetation types mainly found in the mountainous region, the Terai (foothills) savanna and grassland ecoregion, and the Rara Lake, which has many endemic species. Meanwhile, the rarest bird only found in Nepal are listed below.
Spiny Babbler or Kande Bhyakur
Spiny babbler's scientific name is Turdoides nipalensis. In the Nepali language, it is known as Kande Bhyakur, and Spiny Babbler belongs to the species of birds refers as Leiothrichidae. These birds mainly found in the areas around the Kathmandu valley, specifically at the Godavari and Phulchoki area close to the city of Lalitpur.

It is believed to foud by scientist Brian Houghton Hodgson in the mid-19th century, however after that, it was never spotted by the researcher and assumed to be extinct, but 1940, it was rediscovered by Sidney Dillon Ripley, an American ornithologist. It's an exquisite, remarkable brown bird with a pointed beak.
Kande Bhayakur is medium in size and indeed a shy bird but can be seen early in breeding when the male's song in the open and they very timid.Their habitant is a tall shrub and mounts brooks and little trees. Most recently, former Chairperson of Nepal Rare Birds Committee (NRBC) Mr. Suchit Basnet and Mr. Badri Chaudhary found this species on 1 April 2005 at Koshi Tappu.
Himalayan Monal or Daphe
Daphe is also a national bird of Nepal, and it belongs to the pheasant family, Phasianidae. This was first mentioned by the Latham in his book General History of Birds (1821). A comparatively big fasant bird species found mainly in the Himalayan region of Nepal.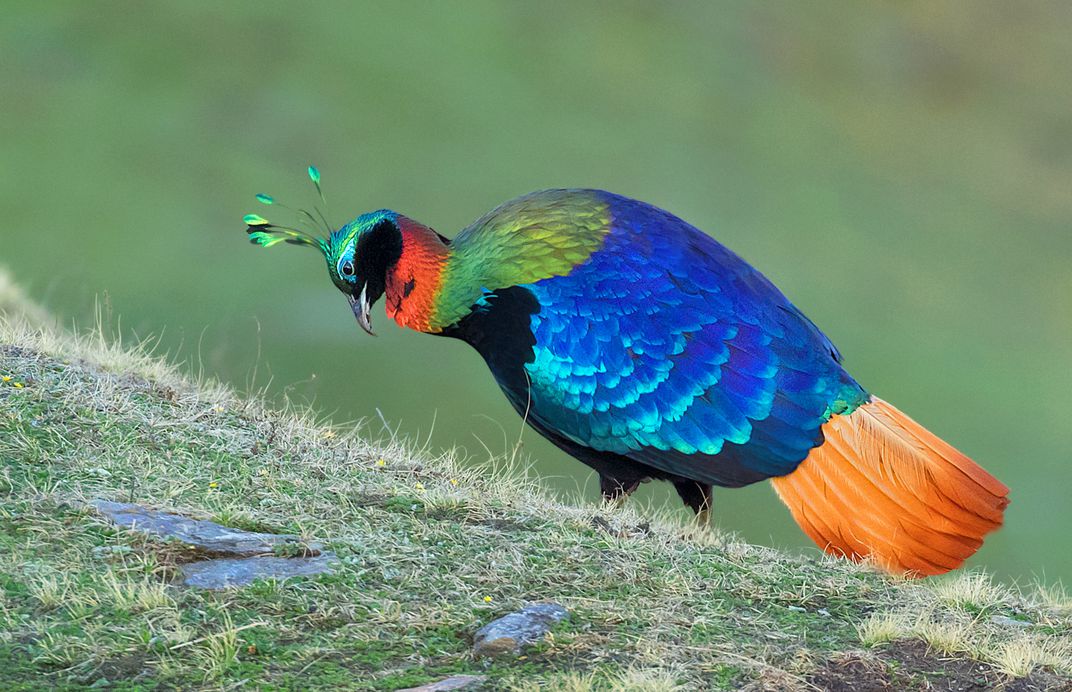 The male of the Himalayan Monal looks very different from their females. The male Himalayan Monal has bright, colorful blue, green, purple, and red feathers. The males, too, have a crest on their heads. Overall, the females look brown, and they have black and white strips on some parts as well. However, the blue skin rings occur around both the male and female.
Moreover, The avifauna of Nepal includes a total of 907 species recorded, of which one is endemic, and one has been introduced by humans 41 species are globally threatened.