Nepal has different cultures and religions. These different cultures and religions have different practices. Buddhism which is a worldwide followed religion was started from Nepal. Approximately 11 percent of Nepalese people are Buddhists and are predominantly from Tibeto-Burman ethnic groups such as Tamang, Sherpa and Bhotey.
Lord Gautam Buddha founder of the world religion Buddhism was born around 623 B.C. in Lumbini, Nepal. Nepal has become an ideal place for Buddhist pilgrimages, with the integration of Buddhism into Nepalese culture.
Monasteries (Gumbas) In Kathmandu
Being the one of the oldest city of Nepal, Kathmandu is the hub of religious and ancient religious monuments and temples. Similarly, for Buddhists and Hindus, Nepalese territory is a sacred place. For Buddhists, there are many gumbas where monks came from different parts of the world for spiritual, learning and teaching purposes.
Moreover, Buddhist monasteries (Gumbas) are established to provide knowledge of Buddhist philosophy and religion. Meanwhile, Gambas teach ways of life to the followers of Buddhism. The Dhawan (monks) and Anis (nuns) receive knowledge in the Gambas. Gambas help to preserve and promote Buddhism principles and help to spread peace and unity to society.
Despite the cultural importance of Gumbas for Buddhist, they are also a distinctive and special landmark of Nepal, and fortunately, in and around Kathmandu Valley, there are many of these.
Dhagpo Sheydrub Ling Monastery
The Dhagpo Sheydrub Ling Monastery is a really beautiful but underrated Monastery. It is located in Nala, Banepa,Kavre, 26kms from Kathmandu. It is also known as Nala Gumba. Designed like any other monastery in Nepal on top of a hill, it boasts beautiful and rich architecture reflecting Buddhism's richness.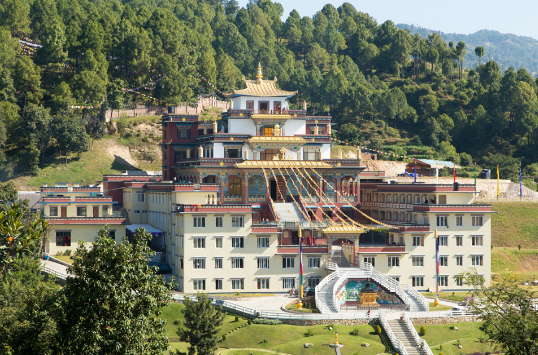 Stunning and intricate murals, sculptures, and statues adorn the monastery's pagoda-style walls while gleaming golden roofs add yet more charm to the architecture. This place is a must-visit as it is not that far from Kathmandu and is less crowded with tourists allowing you to enjoy the beauty in peace.
Kopan Monastery
Kopan Monastery is a Tibetan Buddhist Monastery, located just north of the ancient Buddhist town of Boudhanath, on the outskirts of Kathmandu, built on a hilltop of Kopan hill.Kopan Monastery has become famous for teaching Buddhism to Western students.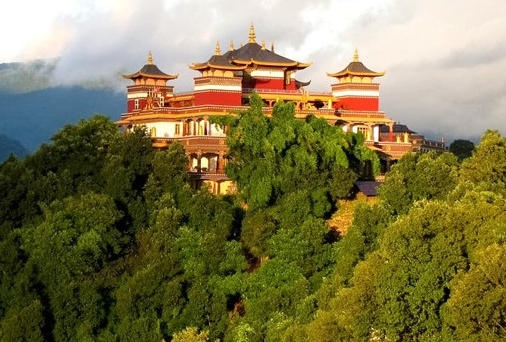 This monastery is home to 360 monks, lamas, teachers and workers. The monks come from all areas of Nepal and Tibet aged between seven and sixty years. They have dedicated their lives to the study and practice of Buddha Shakyamuni 's teachings, with particular focus on the teachings of Gelug Lineage founder Lama Tsong Khapa.
Kopan Monastery is affiliated with the Foundation for the Preservation of the Mahayana Tradition (FPMT). FPMT is an organization devoted to the transmission of the Mahayana Buddhist tradition and values worldwide through teaching, meditation, and community service.
Visitors from around the world come here to take part in courses and enjoy the spiritual environment of the place for study and practice.
Druk Amitabh Mountain Monastery
Druk Amitabh Mountain Monastery is popularly known as White Monastery or SetoGumba.It is undoubtedly the most famous monastery of Nepal. . It is undeniably Nepal's most famous monastery.It is located on a northwestern hill near Swayambhunath Stupa.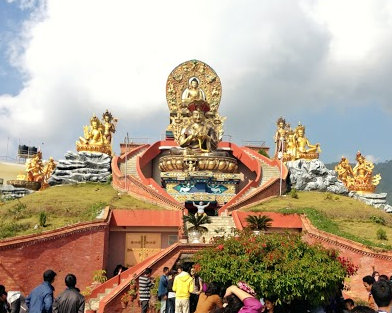 The monastery is obviously visited for religious and recreational purposes but beside that it is a second best spot for sunrise and sunset view. Visitors can also enjoy the beautiful landscape of kathmandu.The Tibetan paintings, murals and statues add more beauty to the already beautiful Monastery.
Shechen Monastery
The beautiful architectural beauty Shenchen Monastery is located in Boudhanath.The history of the Monastery of Shechen is interesting. It was one of Tibet 's six major Nyingma monasteries, known as "mother" monasteries of the Tibetan Buddhist Nyingma tradition.It was demolished due to cultural revolution in the 1950s. Later, Dilgo Khyentse Rinpoche transported the culture of the original Shechen Monastery in Nepal.It was built in Nepal in 1985.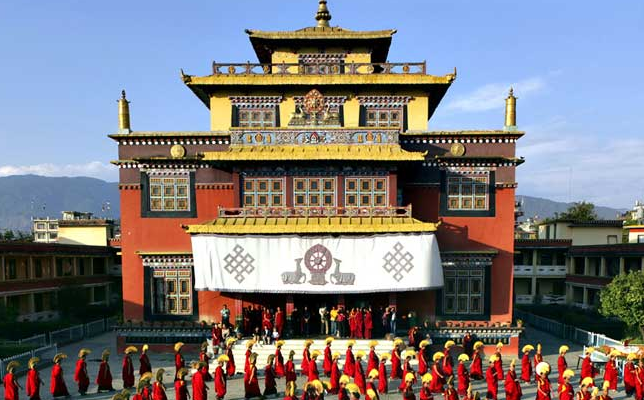 The monastery today serves as the main seat of exiled Shechen tradition. More than 400 monks are presently in Shechen monastery. The monastery regularly conducts dance, painting, music, and philosophy classes on Tibetan-Buddhism. It also has a branch of elementary school offering education to children between the ages of five and fourteen.The School teaches traditional subjects combined with modern subjects.
Thrangu Tashi Yangtse Monastery
The Thrangu Tashi Yangtse is famous by the name of Namo Buddha.It is located 40kms southeast of Kathmandu.The Thrangu Tashi Yangtse Monastery, situated on top of a hill, is a vast Tibetan Buddhist monastic complex with gleaming golden arched roofs. On a sunny day, from here you can enjoy breathtaking views of central mountains such as Langtang Lirung, Jugal, and Ganesh.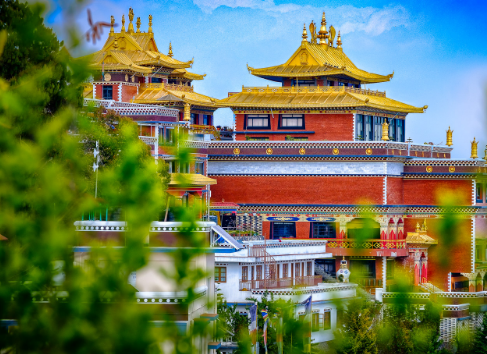 It is believed that around 6000 years ago Prince Mahasatwo cut off his body to a hungry tigress. Then, after 3500 years later Buddha came to the same sacred place, explored the stupa thrice and proclaimed himself to be the prince's reincarnation. The monastery is highly revered by Hindus and Buddhists alike because of this holy myth associated with the site.