Only north of Boudhanath's ancient Buddhist settlement is the Kopan hill, which ascends from the hilly terrain of the Kathmandu Valley and can be seen for miles. Overtaken by a majestic bodhi tree, it was once the residence of the King of Nepal's astrologer.
The same hill is now the home of Kopan Monastery, a monastery under the supervision of Lama Zopa Rinpoche in the Gelug tradition of Tibetan Mahayana Buddhism. The air is clear and the view of the valley is breathtaking.
Speciality Of Kopan Monatery
It is home to 360 monks, lamas, scholars, and staff. The monks come from all areas of Nepal and Tibet aged between seven and sixty years. They devote their lives to the training and practice of Buddha Shakyamuni 's teachings, with particular focus on the teachings of Gelug Lineage founder Lama Tsong Khapa.
Moreover, visitors from all over the world come here to take part in courses and enjoy the cultural experience of the study and practice spot. As taught by chairman, Lama Thubten Yeshe and spiritual director Lama Zopa Rinpoche, Kopan is committed to helping all beings achieve their full capacity of eternal knowledge and compassion.
History Of Kopan Monastery
Since leaving Tibet in 1959, Lama Zopa Rinpoche and Lama Yeshe joined with their first disciple, Zina Rachevsky, in the Buxa Duar Indian refugee camp and moved to Nepal in 1968. They first settled around the stupa of Boudhanath, some miles east of Kathmandu.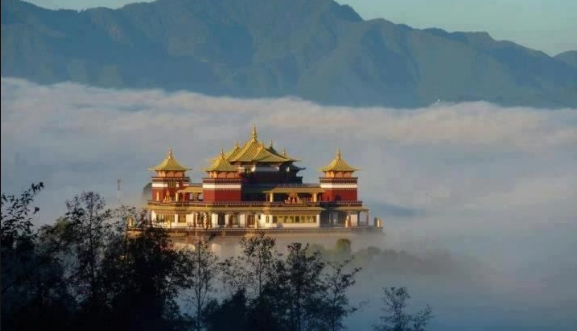 However, after a couple of years, they were able to buy and move to an old house with a small amount of land on top of the Kopan hill which belong to the King of Nepal's astrologer. In 1971-72, the first temple was founded, financed almost entirely by the growing number of Western disciples of the lama.
Shortly after the property was purchased the first monks left. They were mostly young boys from the region of Solu Khumbu and Manang in Nepal. Many of them were sent to the new, budding monastery by Lama Zopa Rinpoche, who was at that time re-establishing the Lawudo Retreat Center, a please where he meditated in his previous life.
Visit At Our Site OMGNepal To Explore More About Nepal!!!!