From the religious perspective, monkeys are considered holy to Tibetan Buddhists and Hindus. "Hanuman" is one of the examples of the monkey god whose statue can be found being worshipped by Hindus. Monkeys in Nepal are found around Pashupatinath, at Gokarna forest, at Swayambhunath and at Thapathali near the Bagmati Bridge.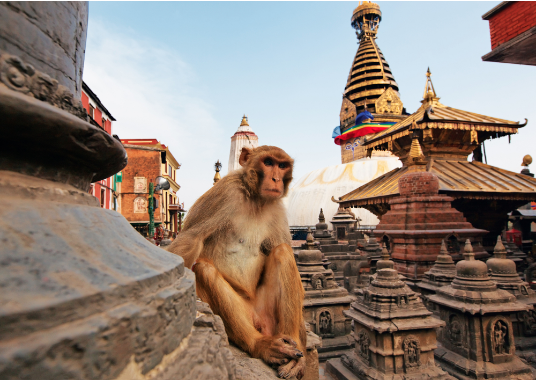 Swayambhunath—a self-risen temple, is a home for the major population of monkeys in Nepal, hence called "Monkey Temple". The mischievous monkeys are found hanging along the flags, jumping over the human for foods, snatching bags and bottles. As legend has its say, the bodhisattva of wisdom, Manjushree, was in the process of building this temple on the hill when the lice in his hair sprung out and transformed into monkeys.

Another myth entails that thousands of monkeys lived in a large fruit tree which overhung a river. One of the monkeys, being aware of a large city downstream, feared if a jackfruit fell over and floated down, the human would come looking for the source, and monkeys would be in danger. Sure enough, one fruit fell and a crowd came looking. They found the tree and threw archers to get rid of the monkeys. The good monkey made a bridge, which unfortunately was short by length, so he stretched himself across the last few feet allowing all the monkeys to escape.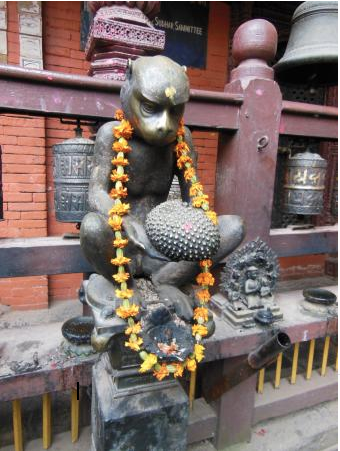 The evidence of this myth is reflected in the bronze statue of monkeys holding jackfruit or mangos in Patan, at the four corners of the golden temple complex (Hiranya Varna Mahavihar).
Here is an awesome video made by Devin Supertramp on the monkey temple.