Inspired by the carpooling system that had once taken the transportation in Nepal by storm during the 2015 Blockade, the initiative of Tootle has been making lives and transport easier for the people of Kathmandu by hiring the solo riders of Kathmandu as service providers.
The idea is to save time and money for people who need a ride from a certain location to another by connecting them with riders who are traveling alone. The app, available in Google Play store can be downloaded for free and your ride will be just a tap away. It is one of the most popular apps generated in Nepal and connects people in need of a ride to those who are traveling to their location towards their destinations. Since it is a service, it cannot be provided for free, however, it does charge a very minimal amount that is much lower than the taxi fares in Nepal.


Two apps are available at the play store which signs the users up for giving or getting a ride from other tootle users.If you are a user that only wants to get rides, sign up for the Tootle app. And if you want to earn some petty cash by giving rides to tootle users, sign up for the Tootle Partner app. You will be asked to enter basic information about yourself such as name, address, number, license number, etc. This is to make sure that people do not take advantage of this platform to assault or harass others, meaning that the use of Tootle is pretty safe for people at any time of the day. It operates from 8 a.m. to 8 p.m. daily and only registers riders above the age of 16 with a legal driving license.
When you want to book a ride for yourself, log in to your tootle account and fill in the details of your pick-up and drop location. The app calculates your shortest route and fare for you. You can tap "book" to get a unique notification code. You can then select the mode of payment and time of departure for 15/30/60 minutes later and confirm the ride. The tootle partners will be notified of your request and your ride will be started when a partner (rider) accepts your request.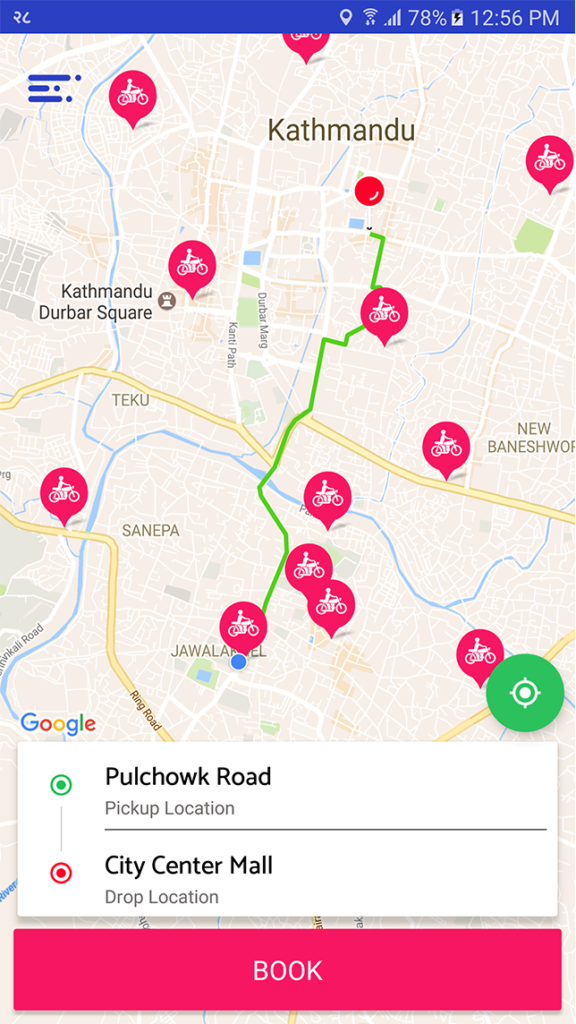 You can make your payments by topping up your tootle balance via e-sewa or tootle vouchers. The riders get an increment in their tootle balance after every successful tootling and can then transfer their balance to e-sewa to use it in their own way.
There are a few challenges that the tootle users might have to face. Trusting a stranger as a rider might be a bit risky and in some cases, the requests might be accepted but never arrive. As for the riders, they have to keep their data and GPS on at all times, which will cause significant cuts in balance and battery status.
Despite these challenges, the founder of this app has been invited to Finland this November to pitch this wonderful idea in front of a bigger crowd. If these problems can be worked on, we can visualize the rise of Tootle as a very popular app solving the transportation problems of people around the world.