Tihar is a five-day-long Hindu festival celebrated in Nepal which comes soon after Dashain. It is the same as Deepawali celebrated by the hindus in India, Sri Lanka and Bangladesh but with a regional variation. In Nepal, all Hindu ethnic groups celebrate this festival with their own variation. For the of majority Hindus, it is the festival of lights. 95% of the people in Nepal are Hindus and they celebrate Tihar by worshiping the Hindu Goddess Laxmi and other avatars of Gods for five days. The festival is celebrated from Trayodashi of Kartik Krishna to Kartik Shukla Dwitiya every year. Tihar in general signifies the festival of lights, where diyas are lit both inside and outside the houses to make it illuminate at night. The five-day festival is considered to be of great importance as it shows reverence to not just the humans and the Gods, but also to the animals like crows, cows and dogs who maintain an intense relationship with humans. 
1. Kaag Tihar – Worshiping Crows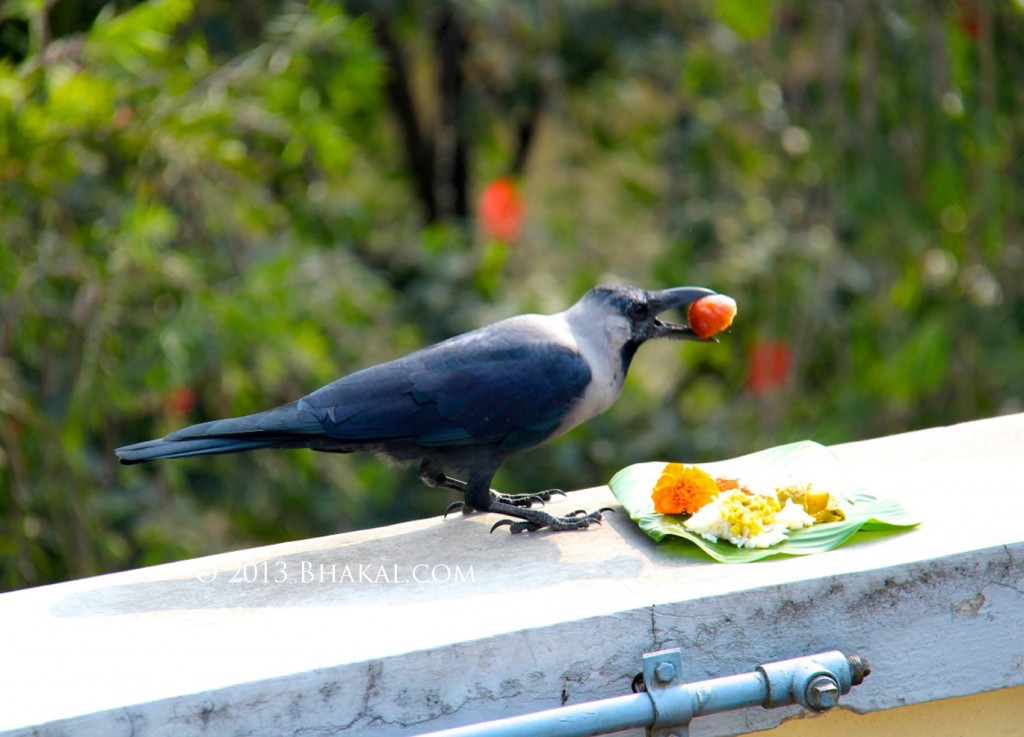 The first day of the festival is called Kaag Tihar. Crows and ravens are worshiped by offering them sweets and dishes, which are placed on the roofs of houses. The cawing of crows and ravens symbolizes sadness and grief in Hinduism, so devotees offer crows and ravens food to avert grief and death in their homes. Tihar, among Gorkhas, represents the divine attachment between humans and other animals .
2. Kukur Tihar – Worshiping Dogs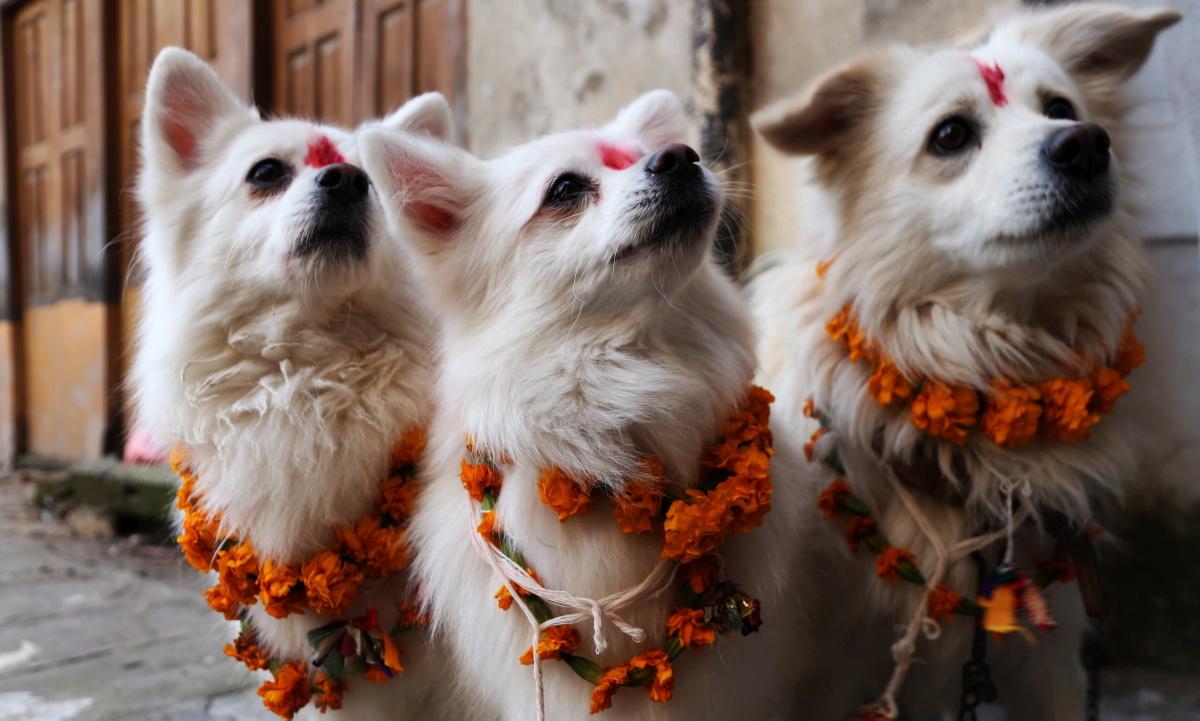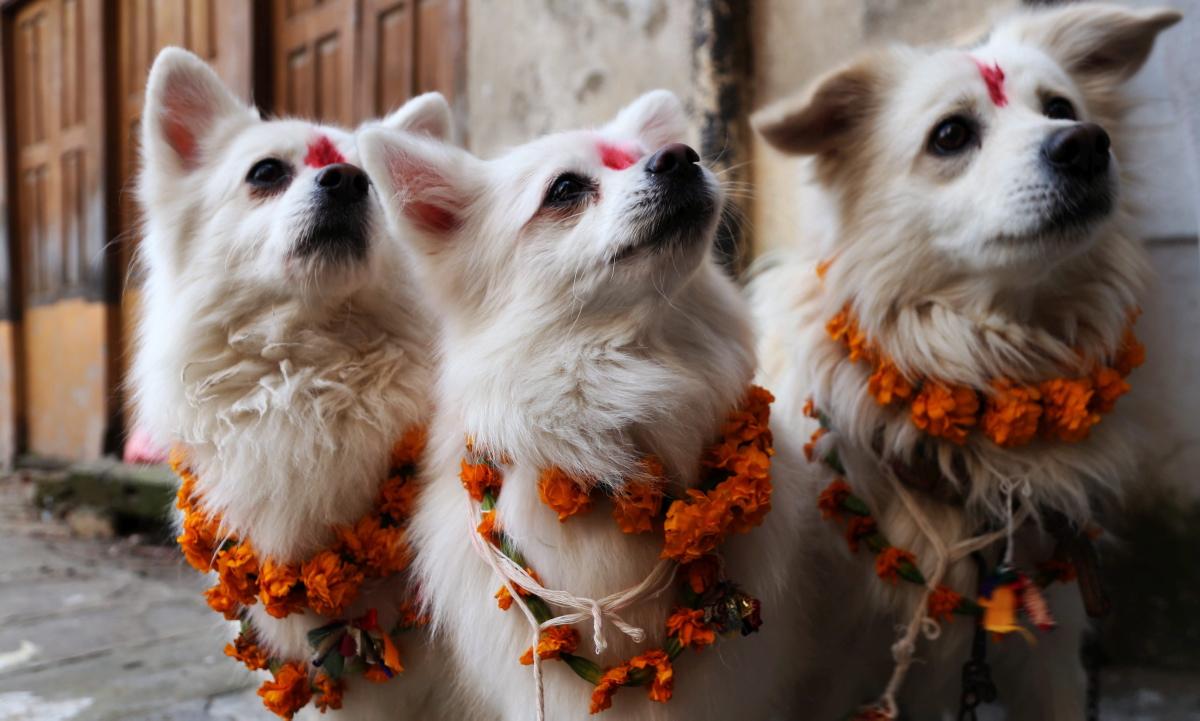 The second day is called Kukur Tihar (worship of the dogs). It is also called the Khicha Puja by the Newars. Dogs, which are believed to be messengers of Lord Yamaraj, the God of Death, are worshiped each year on this day. People offer garlands, tika and delicious food to dogs and acknowledge the cherished relationship between humans and dogs. This day is also observed as Narka Chaturdashi. This festival has been garnering a lot of attention from western countries for the love and respect that Nepalis show to their dog on this day.
3. Laxmi Puja – Worshiping Cows / Goddess Laxmi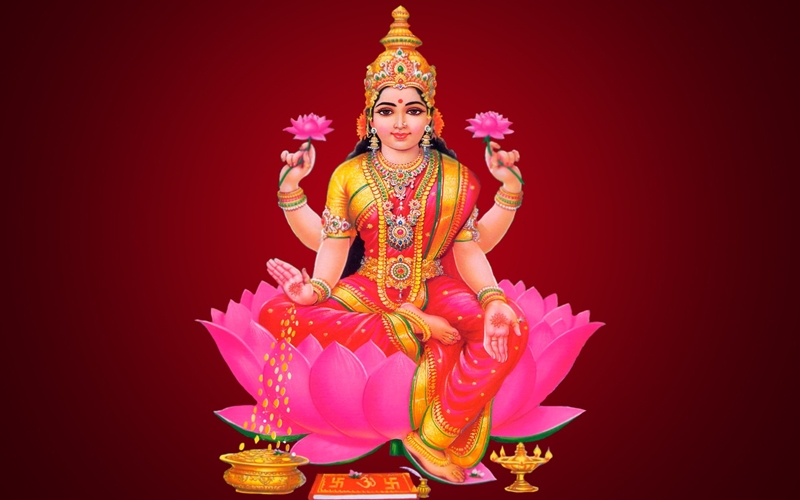 The third day is the most important of all and is called Laxmi Puja. On this day, people worship cows. In Hinduism, a cow signifies prosperity and wealth. In ancient times, people benefited a lot from cows. Thus, on this day people show their gratefulness to cows by garlanding and feeding their cows with the best grass. Houses are cleaned and the doorways and windows are decorated with garlands made of Sayapatri (marigolds) and Makhamali flowers (chrysanthemums).
In the evening, Goddess Laxmi, the goddess of wealth is thanked for all the benefits that were bestowed on the families by lighting oil lamps (Diyo) or candles on doorways and windows to welcome prosperity and well being. At night, the girls enjoy dancing and visiting all the houses of the neighborhood with musical instruments singing and dancing known as Bhaili all night long collecting money as tip from houses and share the bounty amongst themselves.
4. Govardhan Puja – Worshipping Oxen

On the fourth day of Tihar, there are three different known pujas, depending on the people's specific cultural background. It is observed as Goru Tihar or Goru Puja (worship of the oxen). People who follow Vaishnavism perform Govardhan Puja, which is worship towards goverdhan mountain. Cowdung is taken as representative of the mountain and is worshiped. Additionally, majority of the Newar community on the night also perform "Mha/ Ma Puja" (worship of self).
From this day onwards, Tihar is celebrated with Deusi. Deusi is mostly sung by the boys while the Bhailo is sung by the girls. Deusi is balladic in nature and tells the story of the festival, with one person in the group narrating and the rest as the chorus. In return, the house owners give them money, fruits and Selroti. Nowadays, social workers and politician along with young people visit local homes and sing these songs, and collect funds for welfare and social activities.
5. Bhai Tika – Worshipping Brothers & Sisters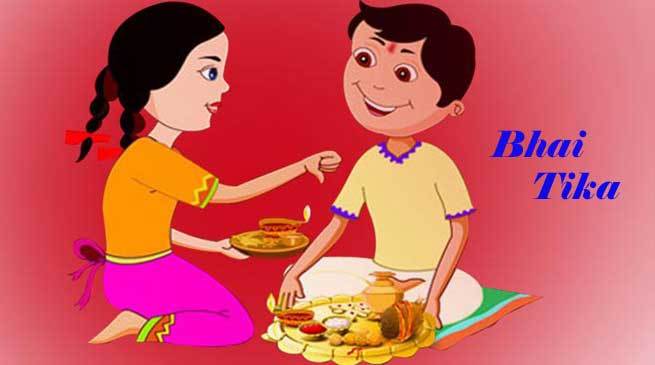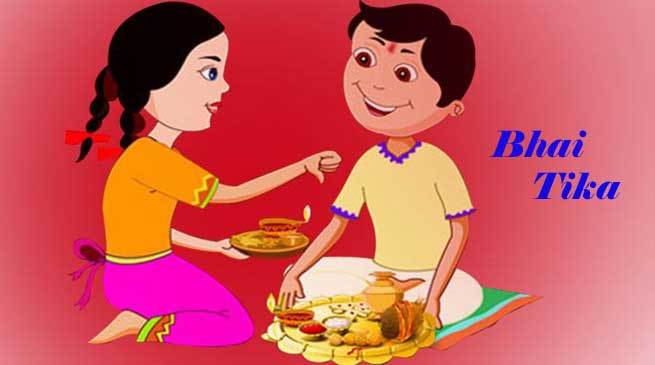 The fifth and last day of Tihar is called Bhai Tika and is observed by sisters applying tika to the foreheads of their brothers to ensure long life and thanking them for the protection they provide.
It is believed that Yamraj, the God of Death, visited his sister, Goddess Yamuna, on this day during which she applied the auspicious tika on his forehead, garlanded him and fed him special dishes. Together, they ate sweets, talked and enjoyed themselves to their hearts' content. Upon parting, Yamraj gave Yamuna a special gift as a token of his affection and, in return, Yamuna gave him a lovely gift which she had made with her own hands. That day Yamraj announced that anyone who receives tilak from his sister will never die on that day.
Sisters make a special garland for their brothers from a flower that wilts only after a couple of months, symbolizing the sister's prayer for her brother's long life. Brothers sit on the floor while their sisters perform their puja. The puja follows a traditional ritual in which sisters circle brothers, dripping oil on the floor from a copper pitcher and applying oil to their brother's hair, following which a seven-colour tika is applied on the brother's forehead. Along with the seven-coloured tika, sisters provide brothers with Sagun, sweets, Makhamali (Gomphrena globosa) garland, and a sacred cotton thread of Tantric importance, similar to Janai thread meant to protect their bodies. Next, brothers give tikas to their sisters in the same fashion along with an exchange of gifts. This ritual is practised regardless of whether the brother is younger or older than the sister.
Those without a sister or brother join relatives or friends for tika. This festival strengthens the close relationship between brothers and sisters.