As you go across the street, you can see people cheering for their parties, leaders going around to the people for their vote, promising to bring peace, development and economic prosperity. 
Political parties in Nepal have already started campaigning for the upcoming legislative elections. This Legislative election will be held in Nepal in two phases on 26 November and 7 December to elect all 275 members of the 4th House of Representatives, the lower house of the Federal Parliament.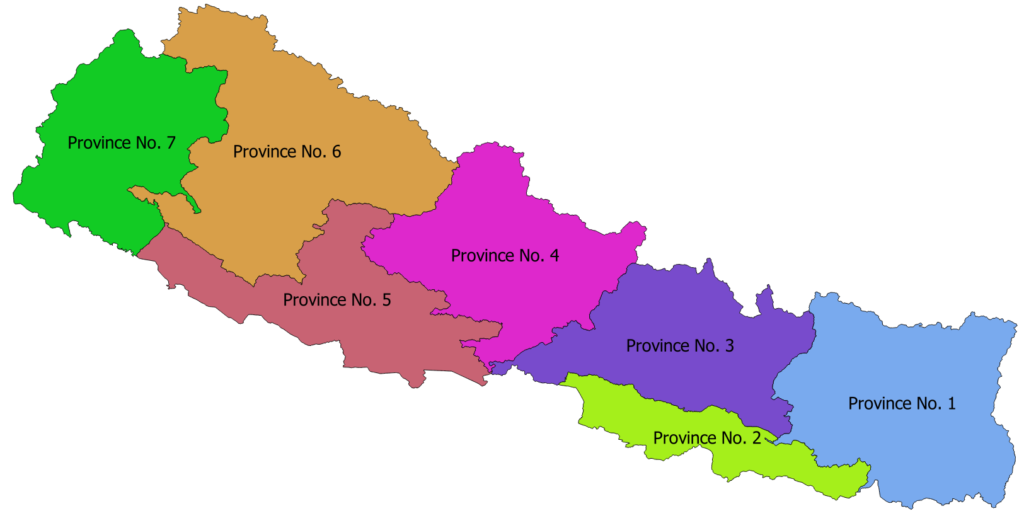 Some pieces of information that could maybe keep you updated with the political change that is happening.
The upcoming election will elect Nepal's federal parliament, which will elect a prime minister, president, and vice president for the country. Provincial assemblies for each of Nepal's seven provinces will also be elected, which will then choose the chief ministers of the provinces.
As the election date draws closer, there is widespread hope that Nepal will finally embark on a journey of peace and economic development. This is probably the first election in Nepal after the restoration of democracy in 1990 to be largely dominated by social, economic, and development issues instead of political issues.
This time, the parties are trying to attract voters through their development agendas. People are hopeful that after the elections, parties will sideline partisan politics and focus on development as there is no major political agenda for parties to deal with right now.
The common agenda of all the political parties are advancing economic prosperity and development. Nepal aims to be elevated from least developed country status to a developing country by 2022; the various parties have promised to achieve this goal. In their election manifestos, each party presented a plan for prosperity and development, including commitments to create jobs to tackle growing unemployment. Parties have also made promises to ensure social security and expand health and education facilities
A Glimpse Of Upcoming Provincial Assembly Compositions
1. 60% of the total assembly members will be elected through FPTP election system and the remaining 40% from Proportional election system.
2. At least 33% of the provincial assembly members will be women. If they not elected from FPTP election system, then a lot of women will be in assembly through proportional system election.
3. Proportional seats will be allocated according to the population distribution of various ethnic groups, minorities group, and backward-area communities.
4.The provincial cabinet will have a size equaling to at the max 20% of the total provincial assembly members.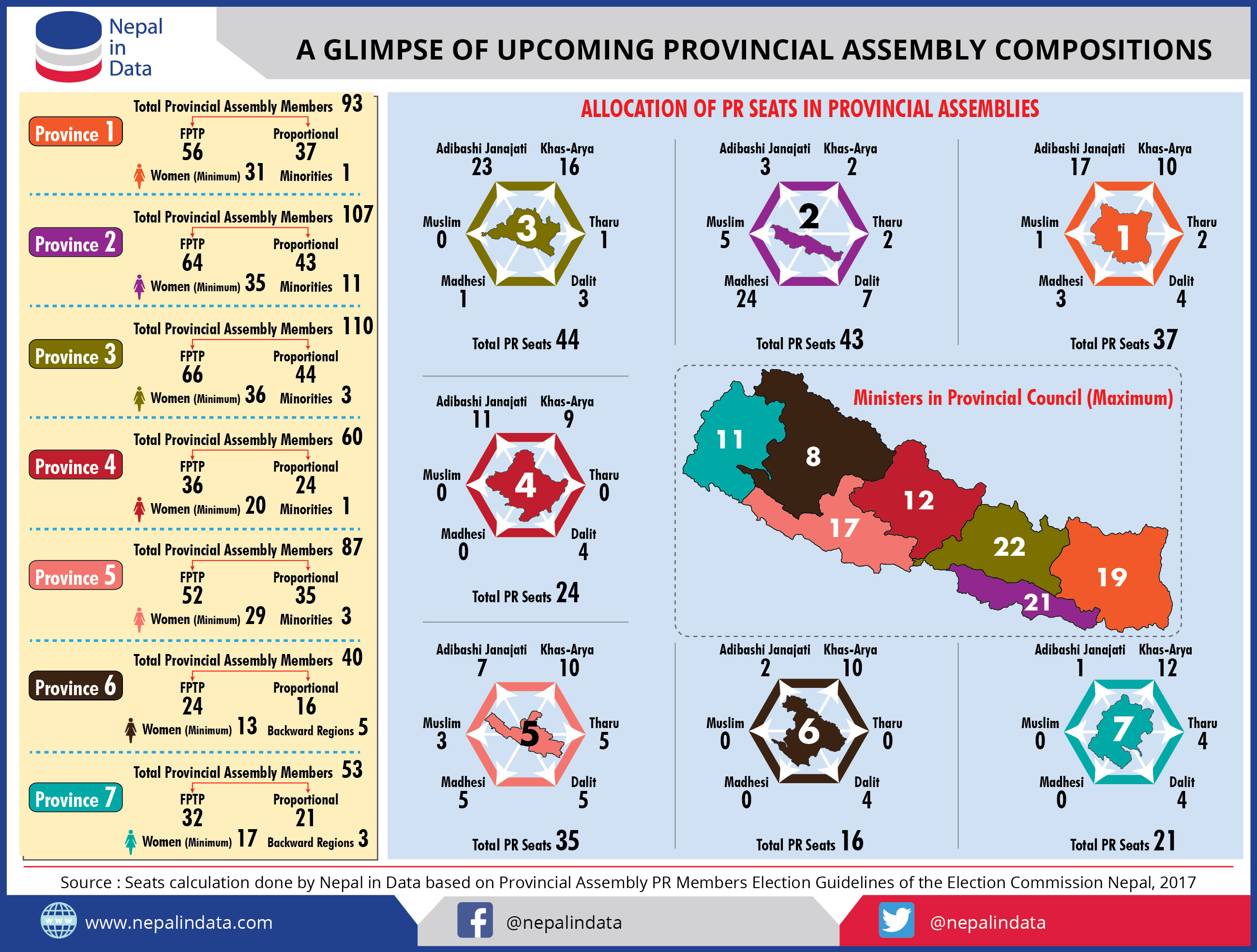 Gender Wise Representation in Election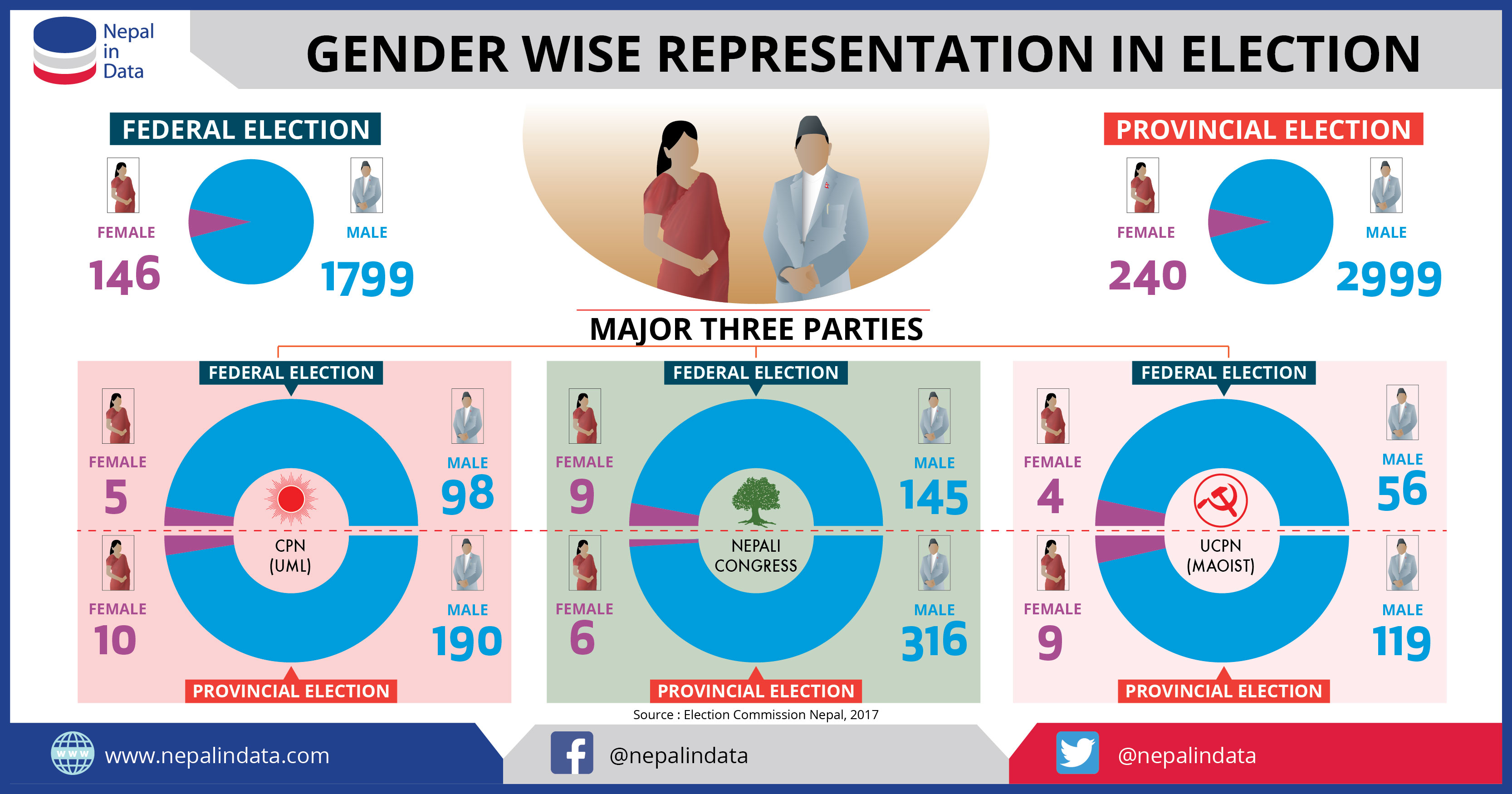 Women Participation in Election
Only 5.67% of the total candidates for federal constituencies election (phase 1) are female. The share of female candidates is even lower (4.76%) in provincial constituencies election. Women comprise 51% of the national population, but their proportion in registered voter is lesser than that of men.