With the title of "Young CEO of The Year 2018" and now an IT Expert for the Prime Minister, Asgar Ali has come a long way in the IT industry in Nepal.

The CEO of eSewa was once a core java developer, who was passionate about coding, but as he started with the company he had to change his role, where he got into management to look up and balance different company principles. "You can't really predict anything.", says Ali as he was sharing his experience.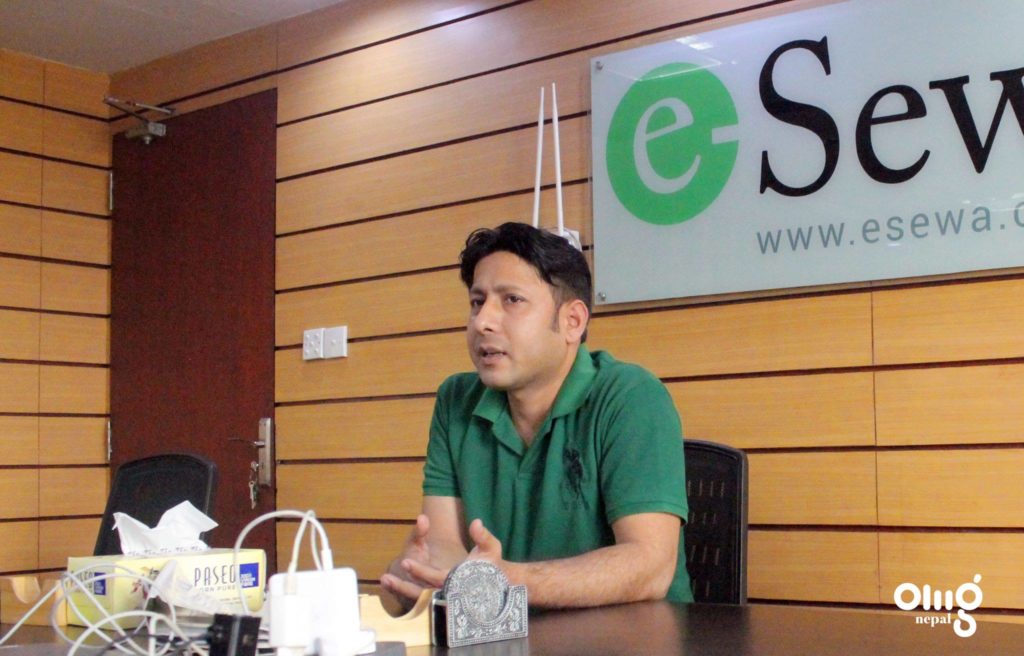 Back in 2003, when the technology boomed in Nepal, there weren't much of mobile application. It was more of web application era. That time, e-commerce was taking away the world but, in Nepal, it was difficult as there weren't online payment service. Ali went through the process and looked upon the policies.
With all the research and the technology growing, he thought of a mobile wallet, but was unsure of it, because of the interface that they had before, i.e. small screen with the keypad on the bottom. But when Apple released their iPhone in 2007, it had a whole new user interface which defined the future of mobile application. That's when he got a visual sight of the product he would be creating.
With his plan for the application, he developed an app called eSewa, which does all the online payment in Nepal. An application that is making thousands of lives easier with just a tap.
Couple days back we had a conversation with Asgar Ali about eSewa and their services, let us hear what he has got to say.
What points do you still think missing in eSewa?

Customer awareness and trust with the app. Like, in Nepal there are over 2 crore mobile users and all of them are our potential customers. We can make their life so much easier, but most of the people aren't really familiar with the system. From the number of mobile users we have got, only 6-7 lakhs of people use the app, which is about 3-4% of the total users.

Could eSewa possibly replace monetary transaction to cashless?

Definitely. The future is all about digital.

Are you planning to take eSewa on an international scale, to India, SAARC? How?

Well, different countries have got different policies on their banking system. In Nepal, we work in a certain way, likewise, other countries have got their own ways. So for an app/service to be familiar with all the countries and their protocols, it would be difficult and we might have to head in another direction.

As we know, only some percentage of people in Nepal use eSewa until today. How are you planning to make sure every guardian and elderly of the family will start using eSewa?
With all the technological stuff, when offered to a child and old person, the child grabs how the device work pretty quickly compared to the old person. Likewise, I would like to make the youth more familiar with the app, the features and how it works, and then they could teach their parents guardians about the kind of service we provide and the procedure of the app.
How secure do you feel eSewa is?

If you ask me, I would say it is 100% secure. The number one priority of our company would be security, then comes the service. Our company is all about financial activities, to maintain the strong security and making it secure is our highest priority.
What's important to your organization— mission, core value or vision?

Mission and vision come side by side and it is very important. The precedence to different aspects of a company is usually defined by the kind of organization one is running. If you are running a service-oriented organization, its all about the people. The people who use your product, for which you need a good team to run along all the ups and downs.
Suggestion to the youth who are planning for Start-up
Don't have the fantasy about having a startup. In the western world, we see the young teens having startup companies, but in Nepal, we can't go forward looking at them. We share different values and the society we grew up in and the environment they have grown up on is different, we can't really compare to that. They have a culture where they lead their lives when they are 18, where they head off to college and start a life of their own, but in context to Nepal, we have youth, adults who live with their parents and under their guidance. Plus, there are millions of startup in the world, and only some of them come to accomplishment.
But to those who are leading a company, make sure everyone in the team corporates with one another. You need to have a good relationship with each other. If one of the members is off on their work, it might just ruin the whole environment and ruin the team spirit leading to various failures.