With the beginning of New Year, the whole city of Bhaktapur starts its celebration of Bisket Jatra. Celebrated annually, Biska Jatra is an important event in Dhapasi Thimi and Tokha and various places in Nepal. It starts four days before the Nepali New Year and continues four days after it. This annual event is believed to have begun in the Lichhavi Era.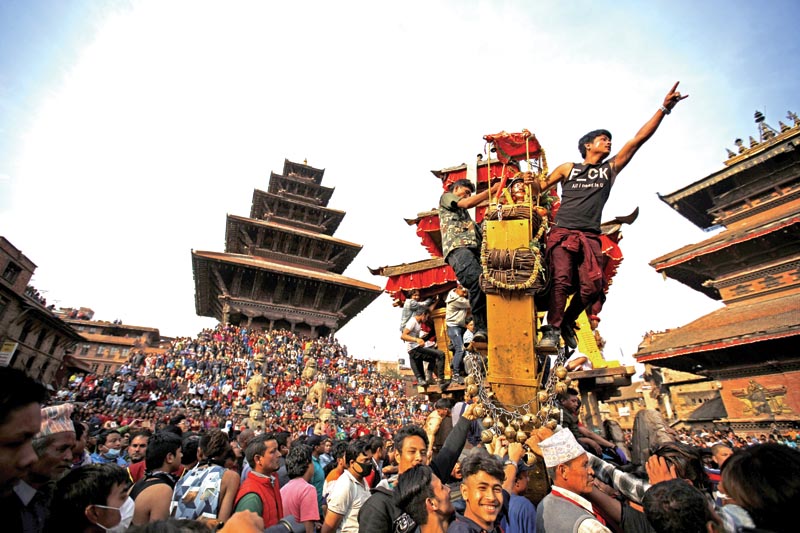 Bhaktapur Durbar square and Thimi are filled with a great number of people during this special occasion. The streets are filled with people celebrating and greeting each other using simrik(crimson) color powder and playing Dhimay music. Since this joyous festival is celebrated for eight days, there are a series of events that happen on each day.  The events for eight days are:
On the first day
The departure of the chariots (Bhairab and Bhadrakali) takes place from Taumadhi Square

Photo-https://goo.gl/qj4RXn

On the second day and third day
 Palanquin processions through the town of statues of gods and goddesses
On the fourth day (New Year's Eve)
Erection of two pillars, representing devils, one in Pottery Square and the other in Yosinkhel
On the fifth day (New Year's Day)
Feasting and celebration in the morning. Bringing down of the pillar in Yosinkhel, representing the demolition of the devil. The collision of the chariots (Bhairab and Bhadrakali) near Taumadhi Square
On the sixth day
Balkumari Yatra and Sindure Jatra in Thimi. Tounge-piercing ceremony in Bode

On the seventh day
Presentation of delicacies to the deities in all eight Astamatrika (pantheon of eight goddesses) temples
On the eighth day
 In the morning, bringing down the lingo pole of Pottery Square. Ascension of gods and goddesses in their respective seats to the temples after serving them with Saguns.

There are many ancient stories about the beginning of Bisket Jatra. Bhairab is believed to have traveled all the way in Kansi, India, to see the city when Bhaktapur was newly built. The tantric leaders wanted to keep him in their city forever when they knew the news of his arrival. They, thus, hurled a tantra at him to trap him. As Bhairav struggled to free himself, his head was severed from his body. In Kasi, there is a statue of his body only, which ran back to Kansi. While in Bhaktapur, there's a one with only his head. When the lingo(wooden pole) is erected in a town square on New Year's Eve, the body of the deity is summoned from Kansi by beating at the bottom of the pole. This is one of the famous stories of how it all started.
Along with flaunting their tradition, people celebrate with delicious food and drinks, music and dances and carnivals to enjoy. The best part is, everyone is welcomed to join the celebration!