The craze of Korean food stepped foot into this Himalayan country a few years ago now. We have all tried the various savory and sweet flavors of Korean dishes by now and while some of us like it, some of us love it! A few of us even find ourselves craving for Korean food once in a while because that's how good it is!
However, most of us are only aware of the know-how of one Korean dish: Ramen! That too, because it is basically the Korean version of Nepali Wai-Wai when it comes to the cooking procedure. We do, sometimes, wish that we knew how to make a few other Korean dishes to satiate our palate with these unique flavors which somehow seem to found only in the Korean eateries in town.
Here, we let you know four Korean vegetable side-dishes, in Hangul: Banchan, which you can prepare with the ingredients at your home, and set up a good ol' Korean dinner table for friends, family or maybe just for the royalty that you are!


Korean Spinach Side dish
Photo: https://aminoapps.com/page/monstax-monbebe/2553600/comidas-tipicas-sul-coreanas
This is the simplest Korean side dish that is also known as Sigeumchi Namul. Namul is a term used for any type of seasoned vegetable dish and Sigeumchi refers to Spinach. There are various vegetable side dishes in Korean but Spinach is the most common ones and is also used an ingredient in Bibimbap.
To prepare this dish, you will need:
1 bunch spinach
1 scallion, chopped
2 teaspoons chili pepper paste
1 clove garlic, minced
1/2 teaspoon sugar
1 teaspoon sesame oil and 2 teaspoons soy sauce
1 teaspoon sesame seeds
Salt and Pepper to taste
How to: Cut the roots of the spinach and wash thoroughly to eliminate sand and other particles from the leaves. Blanch the spinach leaves in salted boiling water for about 30-40 seconds until the leaves are wilted.
Drain the water and soak into cold water immediately to stop further cooking. Cut into bite-sized pieces. Add the remaining ingredients on the list and mix well using hands. Set it aside for 10 minutes to let the flavors seep in before serving.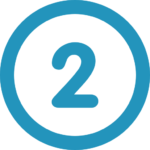 Stir-fried eggplants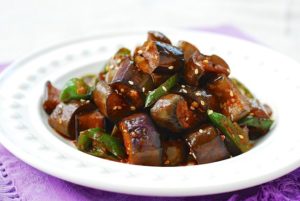 This is a side-dish known as Gaji Bokkeum in Korea, where Gaji is the eggplant and bokkeum means stir-fried. The Nepali variations of this dish have probably been tasted by all of as Brinjal fry or Bhyanta Bhuteko. It is a simple dish that doesn't take much to prepare but surely takes a lot to resist, especially with a bowl of rice to go with it.
To prepare this dish, you will need:
2 medium-size eggplants/ brinjal ( slender ones are more preferred)
3 – 4 green chili peppers
2 tablespoons vegetable oil
1/2 tablespoon chili pepper paste
1 tablespoon soy sauce
1 tablespoon rice wine (chyang) or rice vinegar
1 teaspoon minced garlic
1 teaspoon sugar
1 tablespoon sesame oil
1/2 teaspoon sesame seeds
Salt and pinch pepper to taste
How to: Cut the eggplants into bite-size chunks and the pepper into slanted long pieces. Heat the pan with oil and stir fry the eggplants for about a minute or two until the outer cover starts to soften. Add all the remaining ingredients on the list and continue to stir-fry until the eggplants are well cooked and coated with the seasonings.


Spicy Cucumber Salad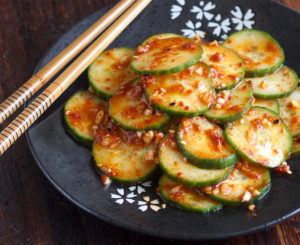 Oi Muchim, meaning cucumber mixed with seasonings, is a salad that can be prepared without even turning your stove on. Cucumbers are a vegetable of summer and bring the vibe of freshness to the table any time of the year, more so with the upgraded version of a spicy cucumber salad!
To prepare the dish, you will need:
1 cucumber or 2 pickling cucumbers (use cucumbers with fewer seeds)
1 teaspoon salt
1 tablespoon hot pepper flakes (or less)
1 tablespoon chopped scallion
1/2 teaspoon garlic minced
1 teaspoon vinegar
1/2 teaspoon sugar
1 teaspoon sesame seeds
1 teaspoon sesame oil
How to: Slice the cucumbers as thinly as possible and toss with salt. Set aside for 15 minutes to let the salt seep in. Squeeze gently to drain excess water and mix with all remaining ingredients on this list to serve fresh.


Korean Braised Potatoes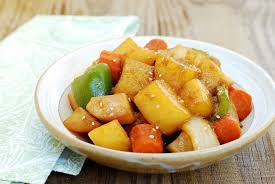 Better known as Gamja Jorim, this is a dish made by simmering the main ingredient gamja/potatoes in the sauce until the sauce is reduced. It's a typical dish that tastes good as a side dish or an evening snack during the winters.
To prepare the dish, you will need:
3 white diced potatoes
1 carrot
3 green chili peppers or 1/2 green bell pepper
¼ onion
For Sauce Mix:
3 tablespoons soy sauce
1 tablespoons sugar
1 tablespoon rice wine (chyang) or other cooking wine
1 teaspoon minced garlic
1 tablespoon honey
1 teaspoon sesame oil
1/2 teaspoon sesame seeds
Pinch of black pepper
1/2 cup water
How to: Mix the soy sauce, sugar, rice wine, garlic, corn syrup, pepper and water to make the sauce. In a small non-stick pan, sauté the potato cubes in vegetable oil for 4-5 minutes. Add the sauce to the pan and bring it to boil over high heat. Cover and let it simmer for 7-8 minutes until the potatoes are tender.
In the meantime, cut the carrots, onions and green peppers into big chunks. Stir them into the pan and continue to boil for the next 3-4 minutes without covering to let the sauce condense. Boil until the sauce is thick enough to cover only the bottom of the pan.
Stir this in sesame oil and sprinkle sesame seeds to serve hot.
If you wish for us to publish recipes of more Korean side dishes, or any other dish that you want to learn, leave a comment below and we will work on it!