Nepalese people have had a tough trot of late. The monstrous April 2015 earthquake destroyed or damaged millions of buildings while thousands lost their lives. But Nepalese are resilient – you have to be when you live in a landlocked country that sits atop the convergence of tectonic plates.
With the tourism a major player in Nepal travel writer Fiona Harper visited recently and found that tourism operators are laying out the welcome mat. Here are eight good reasons to travel to Nepal:
1. Hike to the Top of the World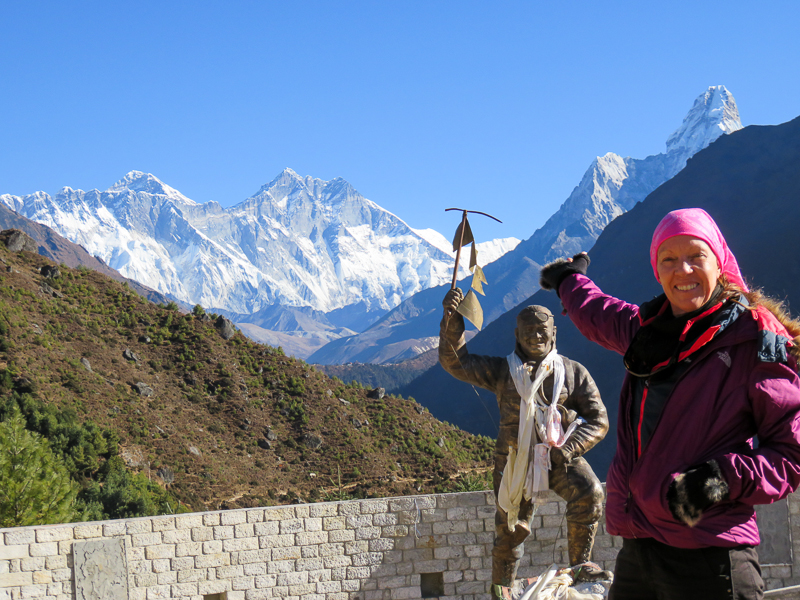 It's beyond the capabilities of most recreational hikers to climb to the summit of the world's highest mountain. But it's definitely feasible to get yourself in a position to eyeball the behemoth. Hiking to Everest Base Camp is one of those achievable dreams within reach of anyone with moderate fitness levels. Reaching 5,364 metres in the Himalayas permits bragging rights, and from that moment forward you will inevitably start conversations with "When I hiked to Everest base camp…".
Get there with Nepal Hiking Team, whose guides grew up in the mountains and know every inch of the trail.
2. Not all of Nepal was affected by the earthquake

Nepal sits on a convergence zone of two volatile tectonic plates which release pressure causing earthquakes. It's the reason the majestic Himalayan Mountains exist in the first place! Earthquakes in these parts are nothing new. The epicentreof the 2015 quake occurred northwest of Kathmandu. Though there was significant damage to ancient heritage sites in Kathmandu, tourist areas east and south of Kathmandu sustained minimal damage. Regardless, Nepalese are resilient and tend to just get on with things. An added bonus from current low visitor numbers is that you'll likely have long stretches of trails – like the one to Everest Base Camp – all to yourself.
3. Nepal is super affordable!

(Image: Fiona Harper)
Nepal is cheap. Using the standard traveller's global beer index, a large bottle of Everest Beer (650ml) costs a couple of Aussie dollars. Food is also cheap. Expect to pay less than $10 for a restaurant dinner, even less if you go for the traditional meal of choice, dal bhat, which usually consists of  lentil or chicken curry, boiled rice served with vegetables, pickles and roti bread.
Some of the biggest bargains you'll find in Kathmandu are at the numerous hiking stores around Thamel. Pick up big brand hiking shoes, wet weather gear and camping equipment for way less than you'll pay at home. Most vendors will negotiate prices too so be prepared to haggle a little. Top class and brand new Hotel City Inn in the tourist district of Pokhara will set you back around AUD80 per night. Budget hotels cost little more than the aforementioned beer.
4. Your tourism dollars help the Nepal economy

(Image: Fiona Harper)
The tourism industry was hit hard as travellers postponed or cancelled travel to Nepal. The result was many people who rely on tourist trade losing their income stream. In popular hiking areas porters, guides, teahouse owners and hoteliers are doing it tough as visitor numbers dwindled. For some who live high in the mountains, the trekking industry puts food on their table, their kids in school and clothes on their back. Your valued tourism dollars help provide employment for people keen to rebuild their lives.
5. Hike on trails declared to be the 'most beautiful trek ever'

(Image: Fiona Harper)
If you read any of the countless reviews about trekking the Annapurna Circuit, you'll soon notice a consistent theme. Trekkers unanimously declare it to be the most beautiful trekking country in the world. It's hard to argue with their enthusiasm. Bordering the edge of the Tibetan plateau, numerous peaks rising from the Annapurna Range reach a lofty 6,000 to 8,000 metres. Treks range from short easy to multiple strenuous days totally around 200 km all up.
6. Pokhara – the adventure capital of Nepal

(Image: Fiona Harper)
Nepal's second largest city lies on the valley floor of a historic trading route between India and China. As well as being the stepping off point for Annapurna trekking, Pokhara has developed a reputation for being the adventure capital of Nepal. Its topography is perfect for hang gliding and paragliding. Stable thermal winds, convenient take off points and landing zones, all within view of the dramatic Annapurna Range make it a winner for thrill seekers. Prefer to keep your feet closer to the ground? The area is popular for white-water rafting, zip lining and kayaking. There is also a number of caves carved beneath the city if you're up for a bit of underground adventure.
7. Find peace at the World Peace Pagoda

(Image: Shutterstock)
Signs around the Wold Peace Pagoda implore silence, which most visitors observe. Beneath the four statues of Buddha a plaque notes that 'All the people who visit this place can experience peace in abundance'. But it wasn't always the case. The World Peace Pagoda had less than peaceful beginnings with key instigators arrested under false accusations.
Then the prayer hall and chamber were destroyed by the government in 1974, citing town planning reasons. By the early 1990's peace was restored and the World Peace Pagoda reached the epic monument that stands today overlooking the city of Pokhara.  The monument has become a popular place to sit and soak up the view of the Annapurna mountains. Get there via a hiking trail from the shores of Fewa Lake or you can drive from Pokhara.
8. Visit seven UNESCO World Heritage sites without leaving Kathmandu

(Image: Shutterstock)
Few cities rival Kathmandu for it's eclectic collection of UNESCO World Heritage sites with seven sites in the city and its satellite towns of such significance. Much like Nepal itself which hosts a medley of religions, World Heritage sites are peppered amongst locals going about their daily business.
One of the oldest and holiest is the Hindu shrine Pashupatinath on the banks of the Bagmati River. A terraced river bank on one side is utilised as a sort of visitors and mourners viewing gallery overlooking funeral pyres on the opposite bank. Relatives stoke pyres, cremating the deceased before their remains are pushed into the river, destined downstream for the holy Ganges River. A pall of acrid smoke hangs over the place which has a festive yet sombre atmosphere.
Many World Heritage sites sustained damage in the 2015 earthquake though the Government was swift to make repairs and reopen these sites safely to visitors.