Ang Rita Sherpa the single man who conquered Mount Everest ten times without additional oxygen passed away at the age of 72 on September 21, 2020. Furthermore, at his sixth climb he set the world record for the most successful climbs of Mount Everest. On his 10th ascent, he recorded most successful climbs that were later broken by others and recorded most escalations without any oxygen tank.
He was the first person without any supplemental oxygen in the winter to ascend Mount Everest as well. Ang Rita Sherpa also popularly known as the Snow Leopard, first reached the summit of the world's tallest mountain in 1983. He came to the limelight after he made it to the top of the world's highest mountain for the 10th time on May 26, 1996 without using bottled oxygen, as a guide to a Swedish expedition.
Guinness World Records By Ang Rita Sherpa
In 2017, Ang Rita was honored with the Guinness World Records as the first person on earth to ascend Mt. Everest 10 times without bottles of oxygen from 1983 to 1996 by and t he record remains unbeatable. He also completed the first ascent without extra oxygen in 1987 of the 8,848 m (29,028 ft) mountain.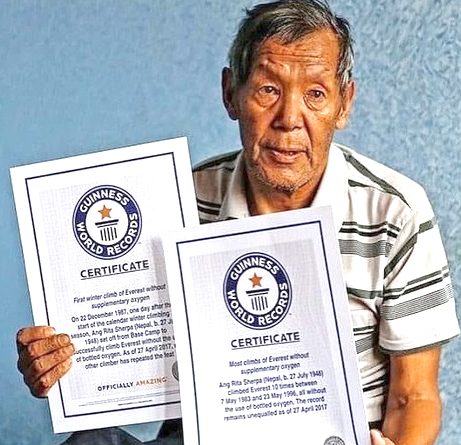 His achievement enables him to received the nickname as Snow Leopard which also believed to reflects his ability in climbing. He has climbed Mount Cho Oyu at the age of twenty and has successfully scaled the summit of hundreds of mountains like Mount Everest, K2, Cho Oyu, Lhotse, Manaslu, Annapurna and Dhaulagiri. And he does it all without any additional oxygen tank.
Related Article: 11 Things you should know about Mount Everest
Personal detail of Ang Rita Sherpa
In Thame, Solukhumbu, Sherpa was born in 1948 . He spent his childhood caring for the yak and trade expeditions to Tibet through the Himalayas as a porter. As a porter at the age of 15, he began mountaineering. He was the father of three sons and a daughter. His eldest son, Karsang, was also an alpine mountaineer and had climbed Everest 9 times.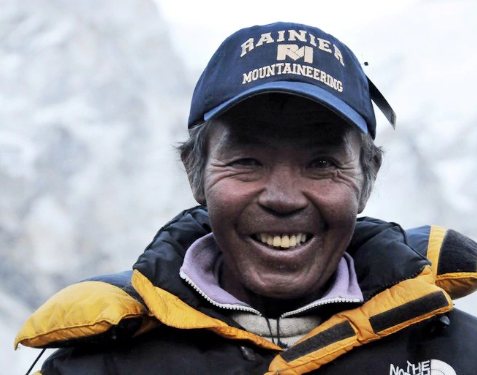 His second son, Chhewang, has also summitted Everest five times. However, Ang Rita's wife died a year after the death of their eldest son. Moreover, in his daughter's home in Jorpati, Kathmandu, Ang Rita lived his final years of life.
Related Aricle: Mount Everest- Turning into World's Highest Garbage Dump
Ang Rita Sherpa illness and death
In 1999 Ang Rita's suffers from the bad health condition. Ang Tshering recounts how he hired a chopper to flee him for treatment to a hospital in Kathmandu. However, despite poor health, his friends and juniors in the mountaineering fraternity complained, Ang Rita was too fond of drinking.
Since his eldest son's death in April 2012, Ang Rita's health deteriorated. Karsang Namgyal Sherpa, a professional climber who has many times scaled the height of 8848 meters, collapsed because of altitude sickness in the base camp of Everest.
Check Out Other Interested Article At Our Site OMGNepal!!!!