As 4.39 billion people got connected on the internet by 2019, estimation shows that's cybercrime risk would cost the world $6 trillion globally by 2021. So, policymakers need to take the cybercrime threat seriously and come up with a comprehensive cybersecurity policy to improve the security of their citizens and businesses online.
In developing nations Nepal, internet users have reached 20 million as per 2019. Online shopping, payments, and youths hanging out with their phones and laptops most of the time are typical in this country. As of nepalisansar, recently, it has seen a massive increment rate of internet users all over the nation. For instance, the growing rate of web access among the Nepalese people has brought up some severe issues in front of the Nepalese government and Nepalese corporate Industry.
On March 2020 at Saturday night, Foodmandu, an e-commerce firm delivering on-demand food distribution services throughout the Kathmandu region, witnessed data breach from their system. The company has officially declared the cyber-attack on its network, which leads to data exposure of its customers. According to Foodmandu's CEO Nidhaan Shrestha, the hackers have leaked the database consist of more than 50,000 User names, personal detail, latitude, longitude, current address, emails, and phone number. Following the incident, on 8 March 2020 Foodmandu officially published an apology letter, Lingard, to their customers and stakeholder.

If we look closely, then an apology letter is just not just enough to fulfill the negligence Foodmandu has done at the moment. There are now 50,000 user data out there, and the maximum of their users don't even realize how their data are being misused. But it's not the first time the Nepalese firm fails to defend itself from cyberattack. So far, Nepal has witnessed a variety of cyberattacks where hackers have hacked the system ranges from government agencies to private business sectors.
Nepalese financial infrastructure, though, appears to be more vulnerable owing to cyberattacks relative to the government and private sector of Nepal. Yet Nepal Rastra Bank has taken several significant measures toward rising cyber-attack risk to protect Nepal's monetary system. They have formulated a policy where banks and financial institutions have to take precautionary steps to mitigate the future danger to their cybersecurity systems. According to Rastra Bank, Nepalese monetary institution, as well as commercial banks, occupies major flaws in their current system, so they need to be revamped and rebutted.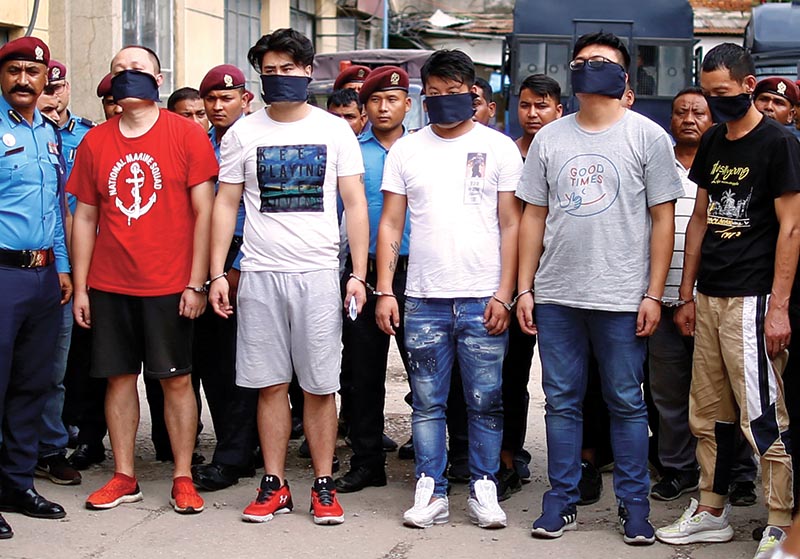 One of the frightening cyber-attack which exhibit the big vulnerability in Nepalese Financial Network took place on September 2nd, 2019, when five Chinese citizens found hacking the Nepalese ATM server around Kathmandu Valley. The Hacker succeed to hack the ATM Machine after injecting the malware in the ATM machine. In the following cybercrime, Chinese hackers robbed Rs 17.6 lakh in total. Later on, Nepal Police then detained the Chinese hackers, and it is deemed the greatest cyber robbery in the banking industry of the country.
Therefore, Executive director and chief of Payment Systems Department of Nepal Rastra Bank, Mr. Bam Bahadur Mishra assigned a team of Singapore researchers to investigate how Hackers got into the Nepalese banking system and the reasons behind the cybercrimes at the high stage.
According to Kathmandu Post, Palestinian hacker community Paradox Cyber Ghost previously hacked at least 19 government departments' websites. The websites that were taken down during the period include the Ministry of Physical Infrastructure and Transport, Office of the Attorney General, Nepal Engineering Council, Regional Agricultural Directorate, Department of Urban Development and Building Construction, etc.
Turkish Ajan, a hacker group from Turkey, had previously leaked Mercantile database. Mercantile is one of the leading business and customer-oriented web resources service provider based in Kathmandu. It is Just popular as Foodmandu in Nepal. The hacker group who hacked Mercantile Nepal made no clear justification why they hacked their system . However, speculation is out all over the internet is that they simply wanted to announce their comeback because Turkish Ajan was not active for a while in the hacking business.
Looking into the official statistics regarding cybercrime rate, then, from 2018 to 2019, 180 cases of cybercrime were recorded, 125 from the Kathmandu and 55 from outside the valley. But things did not worsen this much in the early years. There were 132 cases reported during 2017, and according to Nepal Police, they reported just 53 cases of cybercrime in 2016.
Considering Cybercrimes and attacks as significant threats, Nepal has formed the Information Technology Security Emergency Response Team in 2015, which aims to help individuals and organizations to create a more safe climate. But it does not succeed in implementing it in reality. Later on, Nepal adopted the Privacy Act in September 2018. The Privacy Act has had a significant impact on the personal information of users and their profiles. After the formulation of a constitutional right to privacy, it stipulates whether to use financial details' and how to register it for public bodies, along with penalties for the data breach.