Dorjee Dolma an artist, Teacher and the first to be ever recognized as a female author from Dolpo, Nepal. She wrote a book named Yak Girl: Growing Up in Remote Dolpo Region of Nepal which is a memoir of her early childhood in Karang, Upper Dolpo, Nepal.
It was printed in 2018 and well received. She had the opportunity to travel to Europe, Canada, Nepal, and many states of the USA to speak about her book.
Glimpse Of Dorje Dolma Book
In her book, the setting reflects personal insights on the culture and daily life of people from Dolpo. Which could be one of the farthest city you know from the modern world: No electricity, No Vehicles, and  No Hospitals. The Book of Dorje is a testament to the indomitable spirit of humanity.
Despite her crude challenges, her bravery, determination, resilience and gentle approach to life remind us of the importance of never losing hope. Dolma says
"Although I was inspired by several factors, my main mission was to inspire and educate others about the unique Dolpo culture through my personal stories, who's currently living in Boulder, Colorado, working as an artist and a speaker"
She was the eldest among her 11 siblings due to which she spent most of her childhood taking care of her younger. Among 11 of her siblings, 5 of them and many relatives of her passed away from a simple illness as there was no hospital or a health post available near her village. The nearest well-equipped health facility would take weeks off a walk to reach as she remembers.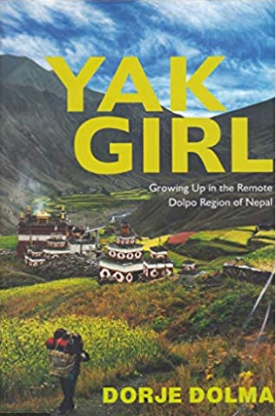 However, life was going on as every day was a struggle in living in a remote area that too with too low or no facility available. She even recalls the encounter with Snow leopard and wild wolves while protecting her cattle. As it was her responsibility to graze the cattle from morning to evening at the age of 5 since her parents were busy growing foods for them. 
Also Read: Stray Dogs During COVID 19
Dorje Dolma Life Struggle
She was 10 years old when her mother noticed a lump on her back which was diagnosed as advanced scoliosis when she was brought to Kathmandu. The treatment wasn't an option for their family as they lacked financial resources and any support so she ended up in Rokpa an international relief organization situated at Boudha. The term "Rokpa" means HELP in Tibetian.
However, faith had a different plan for her. While she was in Rokpa she was helped by the founder Lea Wyler to go to school. Soon after she was adopted by An American family and taken to the USA. It took 4 major operations in the USA to correct her spine. Even after reaching the land of opportunities, it was hard for her to cope with the changes environmentally and socially.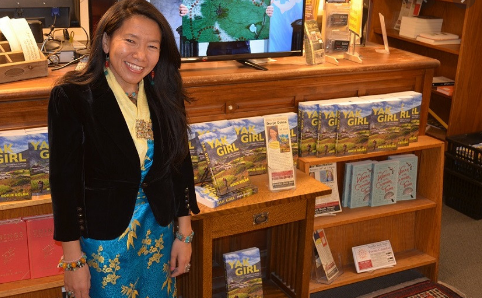 She had to face discrimination in the USA as well as in Kathmandu for the reason she looked racially and Bodily. Later on, she accepted her self, started to adapt to the changes, and began to embrace the Dolpo tradition along with American tradition. While she was at the age of 15 her German grandmother encouraged her to start writing a book. This was an inspiration for her to what she has become today as well as the few book written about her homeland Dolpo that too by native individuals. She was determined to share the cultural heritage and struggle of an individual living in Dolpo isolated from the modern world in front of the whole world.
She is also a graduate of High-quality arts from Colorado University who creates mixed media artwork including Sketches, paintings, and jewelry as well. It took her 15 years to complete the book as she was struggling with the English language which is completely different from her mom's tongue and she was 10 years old already when she went to the USA.
You can also find out more about her and her family and their struggles from the documentary called The Only Son which is about her family.