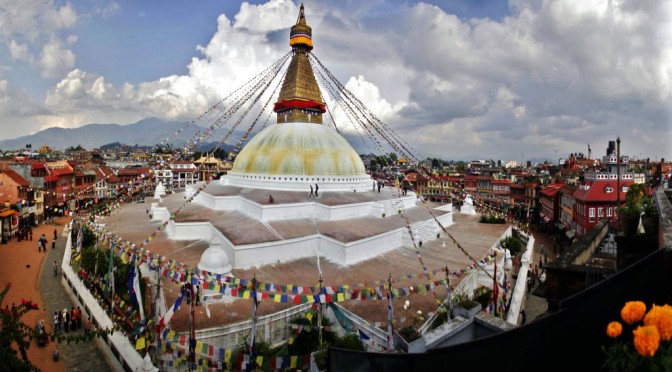 Boudha has long established itself as the home of Tibetans within the Kathmandu Valley. A visit to the World UNESCO heritage site cannot be made without window shopping at the chains of small shops inside the Stupa circle, which clearly show how the Tibetans have truly made a home out of this beautiful piece of land and shared there sacred culture with the rest of Nepal.

Along with the mesmerizing culture and people of Tibetan ancestry comes their unique tasting list of cuisines, which have been, fortunately and gratefully, brought to the Nepalese people by the Tibetans settled here. In recent years, Boudha has started garnering attention for being the Tibetan food center of Kathmandu and the credit in part to their contrasting taste to the typical Nepali palette and in part, of course, to the ambience of peace and serenity that the sacred place bestows upon us.
There are many street side local food stalls, shops and restaurants in the alleyways of Boudha that serve these aesthetic range of food items but not all have been able to gain the liking of the Nepalese people. While some cuisines are yet to discovered by the public, some of the listed have already become a local's favorite and are a must try when you are in or around Boudhanath: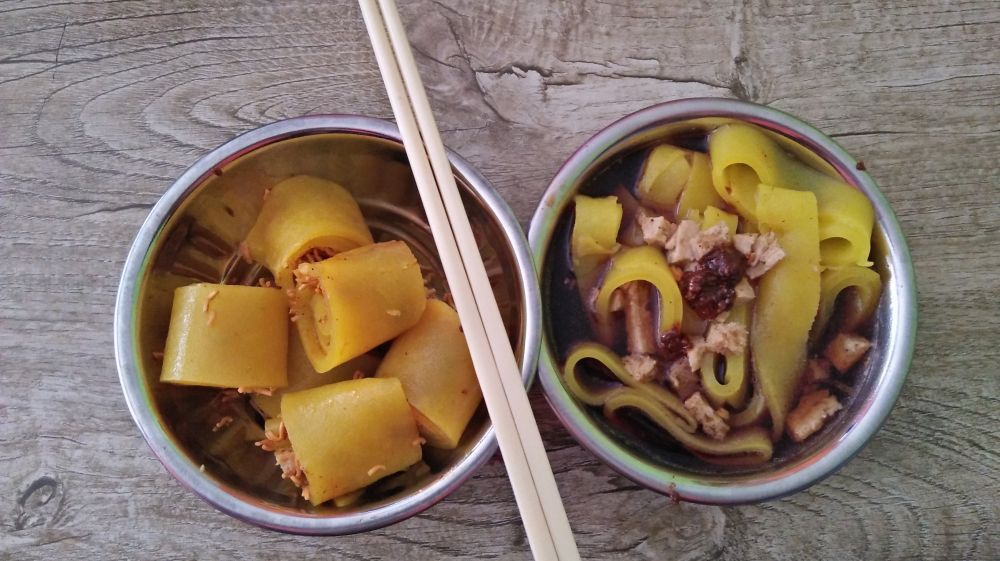 Laphing
Laphing is synonymous to Tibetan food to all people who have just been introduced to the Tibetan cuisine scene. Laphing is a cold mung bean noodle dish, which originates from the Northern part of China's Liang fen, and is often eaten as street food. Served with soy sauce gravy, it has a very slippery texture and is traditionally a summer dish. In recent days, many laphing vendors have started coming up with newer versions of laphing such as dry laphing, stuffed with wai-wai and chips, to appeal more to the Nepali taste buds. Some famous vendors of Laphing in Boudha are Tibetan Top Laphing center and Yummy Laphing Centre.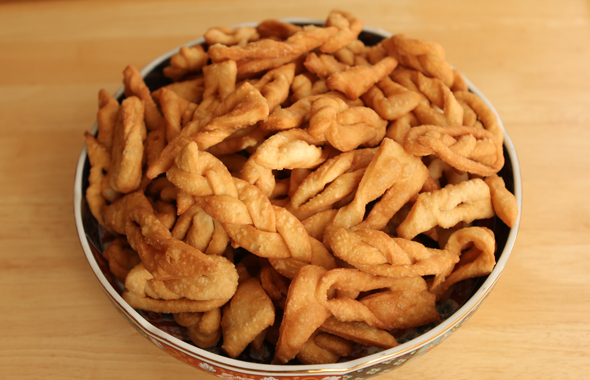 Khapse
A deep-fried biscuit that is traditionally served on the Tibetan/ Sherpa New Year, Khapse can be found in Boudha all around the year being sold in stalls inside the stupa grounds with heaps of the same loaded for display. The khapse comes in all shapes and sizes but the most prevalent shape seems to be small rectangular twisted pieces which are served to the guests.

Thukpa
Thukpa is a Tibetan noodle-soup dish, which originated from the eastern Tibet and Northern part of Nepal. Etymologically, any soup dish in Tibet is known as "Thukpa" and this dish has a lot of variants. In the Nepali variant, red chili pepper and masala (Asian spices) are added to the soup, making it a famous Indo-Tibetan soup dish. These are mostly found in local eateries such as the Khawa Karpo Tasty Noodle Factory.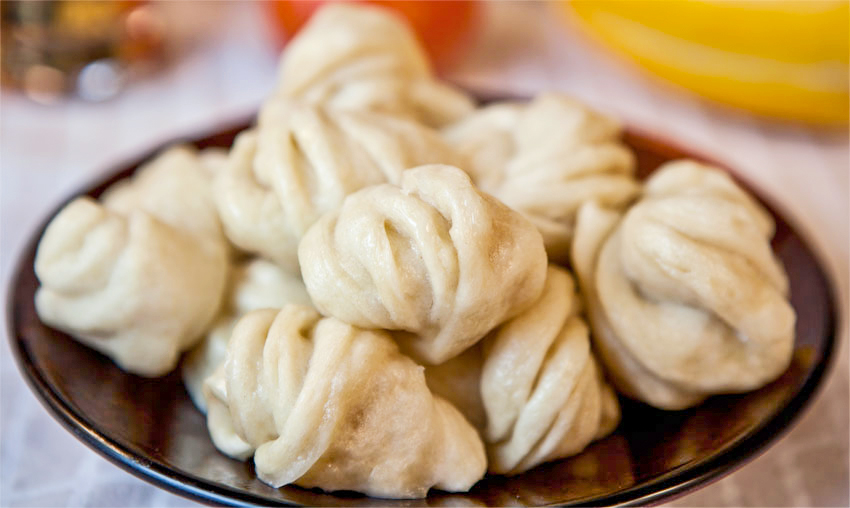 Tingmo
Tibetan steamed bun usually served with tea, red chili paste, sauce or curry, it is a dollop of flour with a very peculiar flowery shape, almost similar to Chinese flower rolls. These buns have a unique taste of their own and can even be eaten without any accompaniment. The other variants with fillings such as beef, yak or any kind of meat are known as momos. These are usually served during breakfast and can be found at any of the local Tibetan eateries at Boudha.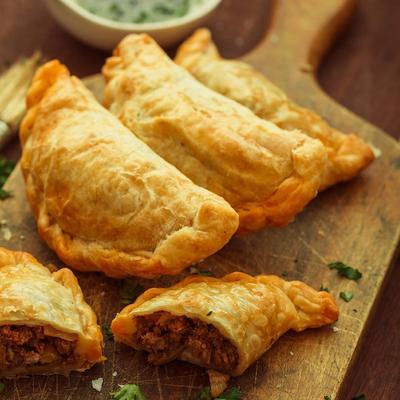 Sha phaley
Literally translating to meat bread, sha phaley is a deep fried pastry filled with stuffing such as minced meat, cabbage, onions, and other spices. These are shaped into circular pieces of bread and are either deep fried or pan-fried, the frying style varies according to the regions. Sha phaleys are very famous all around Kathmandu and can be found on most roadside momo shops, especially in the Patan area. Within Boudha too, Sha phaleys are found in most restaurants serving Tibetan dishes and momos.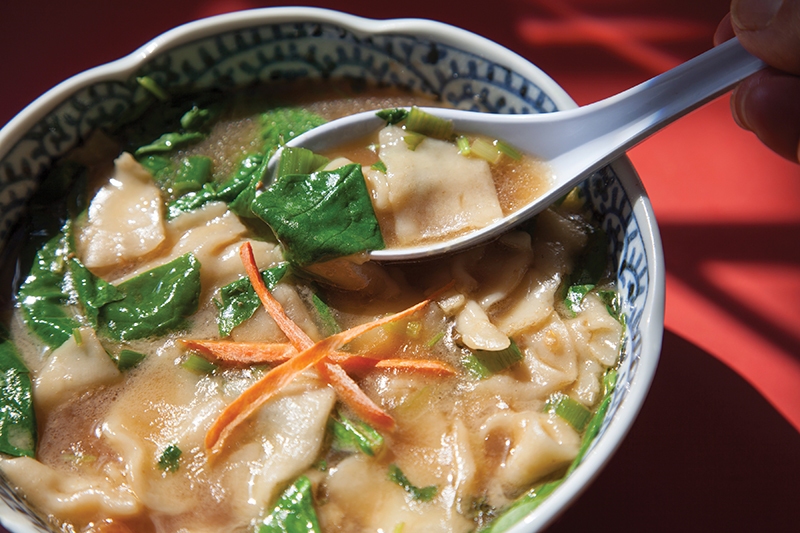 Then Thuk
A variant of Thukpa, Then Thuk is made from hand pulled noodle soup, which replaces the machine or factory made noodles in the original Thukpa. Traditionally soup noodles, these also have a deep fried version where the noodles are deep fried with the other ingredients such as vegetables, meat and chili pepper, where the soup is left out of the dish. These are very famous among the locals and are best served in the winter/fall season. One place to try Then Thuk is at Sky Café, Boudha. They also serve the most delicious Baoji/Pouze (Chinese big momos) in the place.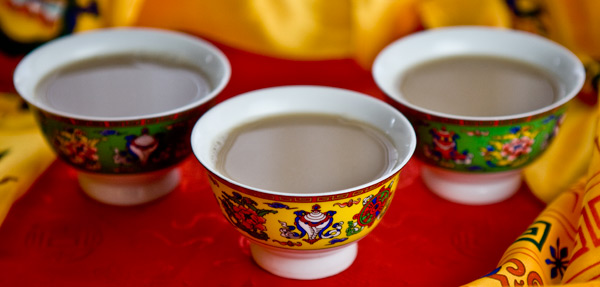 Butter tea
Also known as Su cha/ Cha Suma/ Po cha, Tibetan salty butter tea is tea made by churning tea leaves, yak butter and salt together. It is a regular beverage for Tibetans in the higher altitudes, where the butter helps to fulfill calorie intake requirements. In Nepal, these days the special tea leaves and churners are not available, however, various tea bags are available that can be used to prepare the butter tea. It is also used for eating tsampa, barley and wheat flour staple for Tibetans, by either poring onto it or dipping into it.