Pokhara is one of the famous tourist destinations in Nepal. It is the place that lets you embrace natural beauties and recreational experiences. It has the landscape of several mystical mountains including few sacred temples, lakes, and evergreen hills. One of the ideal places in Pokhara is Phewa Tal(Phewa Tal) and Begnas Tal.
Moreover, places like Gupteswor Gupha, Peace Temple, Sarangkot is among the must-visit places in Pokhara. The elegance of Pokhara city is more glorified by the Annapurna Circuit. Furthermore, traveling to Pokhara is a bit expensive but today you will know how to travel to Pokhara in a most cheapest way.
Book Your Ticket By Yourself
Before getting into the topic, let me tell you, Katmandu's Kantipath Road and Kalanki is the most popular places to find bus service. At this place, you can get your bus to Pokhara. You could start your journey by taking tickets from one of the counters.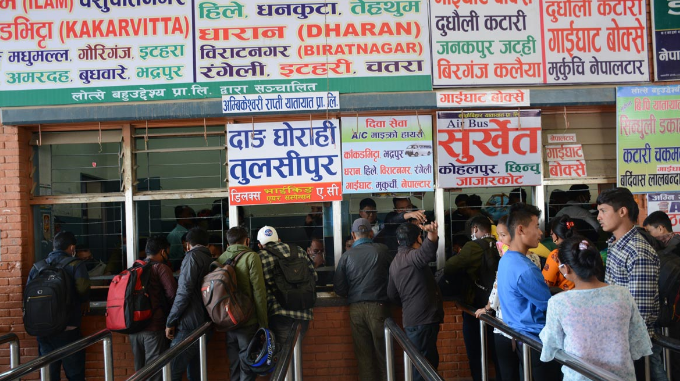 The average cost is reasonable if they ask you to pay 6.50 USD (700Rs). And remember pre-purchase tickets from a local travel agency is not usually compulsory. You could save a lot if you do your ticketing stuff by yourself.
Way To Get Cheapest Bus Fair
City buses are the cheapest option, at roughly 4 US$ (Rs. 450). You will get the bus or a smaller microbus which is generally a Toyota Jumbo Hiac.City buses are not slowed intrinsically compared to tourist buses — they are typically ever a little faster because drivers have no speed restrictions. 
Evidently, you perhaps have to compromise with your comfort zone. These buses didn't have any A.C . Neither they will stop you, wherever you want. But you will get a chance to meet with locals and may you find your journey interesting because Nepalese people are very friendly.
Getting Rooms In Cheaper Price
Talking about hotels and accommodation, then we have to mention that, the price of hotels is different according to seasons. Basically there on and offseason. So, if you travel around off-season then, you will find things are much cheaper. Moreover, during the month of April and May as well as October and November is considerably a high season.
The room charges around the lakeside of Pokhara is comparatively high. But there are a bunch of hotels, just a few minutes away from Halanchowk, Pokhara, where you can find much cheaper rooms. The price for a single bed starts with Rs 500. However, you will not get any additional water bottles, meals, breakfast, etc.
Less Expensive Foods
Accept the traditional foo, you have to be familiar with Nepali style dal, bhat and tarkari which is generally a main dish of Nepalese. The influence of these food can be seen in every part of the country. These food serve in different styles with different items. So, the price varies according to place and time. However, in Pokhara you can eat Dal, Bhat and tarkari just for 1 USD.
There are small restaurants around the bus park of Pokhara where you can eat this food. Cheap does not mean unhygienic or unhealthy. They will serve you healthy food. But thing is that you will just have few varieties on your plate.
Affordable snack And Breakfast
The most common thing Nepalese do after waking up in the morning is drinking tea. If you love to taste Nepali tea then, you have to visit local cafe. They will offer you basically with two types of tea i.e black tea and milk tea. These tea price ranges between Rs 15 – Rs 30. With tea, you can have some snacks like local cookies or Nepali Shel Roti. The cost of these snack is up to Rs 15.
Meanwhile, you can have Nepali style momo and chowmein. The price of these foods varies according to place. But the average price of buff mom and buff chowmein price which is famous among all, between Rs 100 – Rs 150.
Visit Our Site OMGNepal To Explore More About Nepal!!!!
Feature Image Credit: http://www.flickr.com/photos/souvikb/644173046