Panch Pokhari begins at Chautara. Chautara is Sindhupalchok District Headquarters in the province. The trails off the beaten to Panch Pokhari, settled at an altitude of 4100m. The way to Panch Pokhari got some gorgeous habitats mainly bamboo, pine and other evergreen woods with magnificent views over Gauri Shanker, Langtang, Dorje Lakpa, Jugal Himal.
Panch Pokhari is a sacred lake, as well as the area around this lake, is also a religious place. From this lake, you can experience the snow-capped Jugal Himal mountains at sunrise and the interaction with the Sherpa 's living in this area which makes this visit even meaningful.
More About Panch Pokhari
The land of Panch Pokhari has five sacred lakes that's the reason it is regarded as panch pokhari which means five lakes. This lake is sacred and mainly deity of Hinduism and Buddhism visits this place mainly at the time of Janai Purnima. Panch Pokhari is a 5 Hindu holy lakes situated at the Sindhupalchowk District and considered to be 9th highest altitude wetland in the world.
The fresh and alpine water source of this lake is Indravati river and it's surface elevated around 4,100 m (13,500 ft) above the sea level. Panch Pokhari trails lies to the north of the Kathmandu valley and it is located at the chain of many astonishing peaks of Nepal.
Some Major Features
Panch Pokhari is one of the main features of Langtang National park, located in the Sindhuplachowk the central Himalayan region. The chain of peaks at Panch Pokhari is Jugal Himal that includes Dorje Lakpa (6966m) Madiya (6257m) and Phurbi Chhyachu (6,637 m).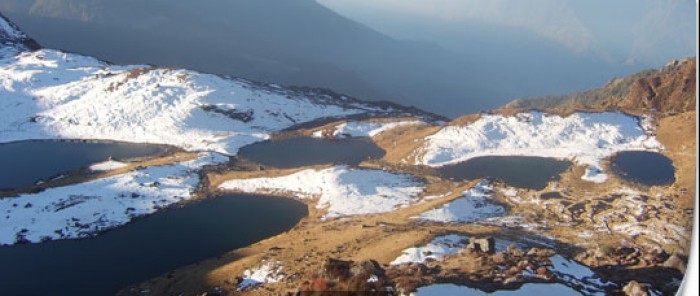 Meanwhile, if the view is clear then probably you can see the Mystic mountain of Nepal called Gauri Shanker. Nevertheless, besides the picturesque view, you can also closely encounter the exceptional life of Tamang and Sherpa community of Nepal around this area. The local people around this lake are Tamang and Sherpa
Religious Beliefs Of Panch Pokhari
People take a dip in the pool before they change their holy thread or wear it. You will see the two pilgrim houses by the pond and the Lord Shiva shrine. aThe trail in Panch Pokhari Trek is mystical and calm, even at uncertain weather.
According to religious beliefs the dip in Panch pokhari allows replenish yourself with purity and composure. Moreover, the journey to Panch Pokhari is the ideal one for spiritual and peaceful people too.
Check Out Other Interested Article At Our Site OMGNepal!!!!