With the mission "To connect people to digital financial services across Nepal in simple, affordable and secure ways" the F1 Soft group has secured its position at the top in the Nepalese digital financial services. They are collaborating with different cooperation to enhance and optimize the financial service sector in Nepal.
Along with innovator and creative disruptors and vision "To become a household brand used by every Nepali to meet their daily digital consumption needs" they are leading in the Nepalese digital financial services. Moreover, this article will unearth the overall framework of the company.
F1 soft group And Their digitize financial services
F1 soft group is a diversified financial service that is helping Nepali consumers to access the financial service in a simple, affordable, and secure way. They have operating experience of 16 years and have invested over a decade to develop DFS products and services.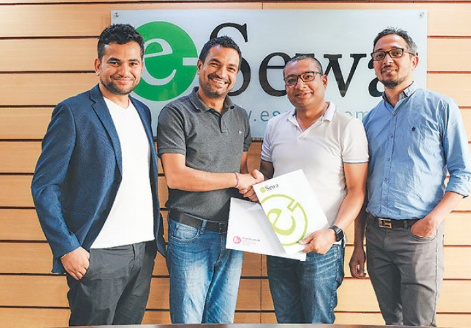 They are the first to develop an online payment gateway and a digital wallet in Nepal. They are the pioneers in Mobile banking Some of the Banks and financial Institutes the F1 Soft group has collaborated are:
Century Bank
Reliance Finance
Sanima Bank
Prabhu Bank
Siddharatha Bank
Machhapuchhre Bank
Mega Bank
Everst Bank
Not only these the F1 Soft group has been a trusted tech partner of over 50 bank and financial institutes of Nepal. Nevertheless, currently, there are over 700 professionals in technology and management working for the F1 soft group under 11 different vertebrates with a common objective of digital financing. The 11 vertebrates of the F1 soft group are;
Related Article: Need Of Digitalization In Nepali Banking System To Grow Tourism
1. Fintech
Fintech refers to the company or service that uses technology to provide financial services to a business or the end consumers.
F1 soft Pvt ltd is Nepal's leading Fintech company which provides financial transaction services to banks and financial institutes of Nepal. It is recognized for introducing mobile banking and mobile financial service in the country.
It is the founding company of the F1 soft Group which was founded in 2004. Currently, more than 90% of Nepal's bank uses the mobile banking and internet banking platform developed by F1 soft. Similarly, around 80% of the digital payment system is contributed by them. They were also the highest taxpayer in Nepal in the IT sector in 2007. Their innovation has been recognized nationally as well as internationally i.e.
2012 – Red Herring Top 100 Asia Award
2013 – FNCCI Service Excellence
2014 – International Business Award ( Bronze)
Some of the Featured Product of F1 soft are
Bank Smart
Fone Loan
Fone savings
Bankxp
Fone Points
Express Banking
Fone savings
2. Digital Wallet
E Sewa was introduced in the year 2009 which is the first Digital wallet of Nepal. It has been licensed by the Nepal Rastra Bank as the Payment Service Provider. It is Nepal's Leading payment gateway with the user of over 3 million across Nepal. You can send and receive money with Esewa not only that it also the solution for the Utility payments, Online shopping, EMI's, Travel tickets, Movies, and many more.
It is one the most Prominent Brand of F1 soft Group as it has been successful being a household brand name with more than 3 million active users, 50+ Bank Partners, 100k + plus Merchants, and 85K+ agents.
3. Payments
Fonepay is a digital payment processor which connects consumers, banks, and merchants to facilitate mobile/ digital payment. It is also Nepal's first payment service operator licensed by Nepal Rastra Bank.
With fone pay the following payments can be enabled
i) In-store Merchant Payment: Customers can pay the merchants simply by scanning the QR code which is available at the merchant outlet in a Printed form or from the app.
ii) Online Payments: You can make online payments like Utility payment, Movie tickets, flight tickets, etc.
iii) P2P fund transfer: Users can transfer funds from one bank to another bank simply with the mobile or account number.
Related Article: SEO: Next Generation Digital Marketing in Nepal
4. Health Tech
Cogent Health Pvt ltd has been working in the health field for over a decade. It was acquired by F soft group in 2018. It aims to digitize the healthcare industry to transform the way health information is managed and used in Nepal. Cogent Health has developed SISH (Software for Integrated Services in Hospital), a popular EMR (Electronic Medical Record) with inbuilt modules of CDSS (Clinical Decision Support System), CPOE(Computerized Physician Order Entry), and data mining.
It also developed a Smart swasthya app during pandemic COVID 19 which can self assess the scan of COVID 19 based on MOPH and WHO guidelines.
5. E utility
Diyalo Technology was established in 2012 and acquired by F1 soft group in 2018 with the aim to build software solutions which can help the small business and communities to digitize. Bus Sewa, E Lekha, and Watermark are some of its featured products.
6. Esurance
Darshan tech is an insurance domain that was established in 2010 and acquired by the F1 sot group in 2018. It is associated with Nepal's leading insurance companies to automate and digitize their payments and workflow. Asian Life Insurance, Gurans Life Insurance, Reliance Life Insurance, Beema Samiti, Citizen life insurance, Prabhu life are some of its renowned customers.
7. Offshoring
In 2017 Logica beans was established as F1 soft groups offshoring and R&D unit. It has been providing services to entrepreneurs across countries like the USA, Australia, Amsterdam, Singapore, and Middle East regions. It is also a platform for research and development of the F 1 soft group which has been the engine to Nepal's fastest-growing startup environment.
8. Remittance
Esewa money transfer is the fastest-growing remittance service in Nepal Established in 2019. It offers a blended method of remittance to Neplases across the world. Which comprise of traditional remittance service with a digital model of transfer where you can send and receive the money with simply a tap on mobile phones.
Related Article: Rising Cybercrime in Nepal – Reasons & Preventive Measures
9. Big Data
Extenso Data was established in 2018 which equips businesses with tools to Optimize their daily operations, lower costs, and new opportunities. It mainly specializes in Artificial Intelligence, Data Analytics, Predictive Analytics, and Big data. Some of the services that the company provides are:
Business Analysis
Future Forecasting
Process Optimization
Data Engineering
Process Automation
10. Web and Mobile App
Shiran Technologies was established in 2008. It provides service to the different enterprise's based solutions i.e. Management System, Desktop, Web-based application, and Mobile based application. Dish Home App, Nepal Telecom APP, and Buddha air App are some of its renowned works.
Related Article: Conducting Free Online Classes In Nepal Using Google Products
11. Education
Swastik College the school of computer science and Application was founded in 2013. It offers courses like Bachelor of Science in Computer Science and Technology (B.Sc CSIT) and Bachelor of Arts in Computer Application (BCA). F1 Soft group invested in Swastik college in 2019 with aim to produce highly competent and industry-ready IT graduates by introducing a more practical approach to the curriculum.
F1 Soft group is the combination of all businesses that are categorized above which has been leading Nepal's market being the pioneer. The group has been determined to digitize the Nepalese Market in various Sectors.
Visit Our Site OMGNepal To Explore More About Nepal!!!!