Starting from the western slope of Kali Himal, the Imja Glacier flows through eastern Nepal, part of a glacier network that eventually feeds the Ganges River. In the 1960s, meltwater started settling at the foot of the ice, forming Imja Tsho.
In a 2009 report, the lake of melted water was identified as one of Himalaya's fastest development. Protected by a terminal moraine, Imja Tsho affects populations downstream from the prospects of a glacier catastrophe.
More About Imja Tsho
Imja Glacial Lake, at almost 5,000 meters above sea level, was in danger of flooding villages, walkways, and bridges downstream of the lake. The initially 149-meter deep lake, after months of hard work, decreased its level of water by 3.4 m.
In the Himalayas, Imja is one of the thousands of glacial lakes. Many lakes have been recorded to rapidly fill up due to the growing global temperatures that have intensified the melting of glaciers.
Related Article: Kapuche Lake | Virgin Glacier lake Of Nepal
Why Imja Lake is Dangerous?
Imja Tsho was known as one of Himalaya's extremely unsafe lakes. It is at 27° 53′ 55″ N, 86° 55′ 20″ E and 5010 m in the Everest zone of Nepal. The west coast of the country is at 85° 55.' In the north-east of the Dudh Koshi sub basin is Imja Tsho Catchment. On the lower end of the glacier is the lake itself, on the peak of its mother glaciers (the Imja and the Shar Glaciers' snout).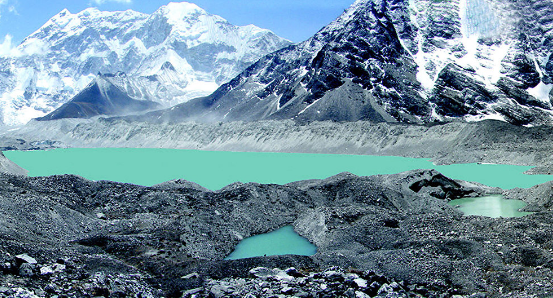 In south west direction, the Lhotse Shar Glacier is flowing. The Imja Glacier, however, is northwest facing and has its terminus at about 5100 m above sea level. These two glaciers flow westwards under the Imja Tse trekking trail, some 3.5 Km above the terminus.
Also Read: Tsho Rolpa Lake – Rolwaling Valley, Nepal
Efforts To Save Imja Tsho Habitants
There is so much focus given to Imja but only by local sherpas, with alarmist media coverages. However, officials neglect the threats raised by other glacial lakes. Local people of Imja Tsho afraid that they will surprisingly be struck by flooding from glacial lakes that have not received any publicity and become dangerous. Since the early 1960s glacial lakes have been breaking up in Nepal more than 20 times.
The lake was first mapped in the form of a few pounds from the satellite image taken in 1962. The total area of the ponds was approximately 0.03 km2 then (27916 sq m). With the melting of glaciers, the ponds merged into a supra-glacial lake in the 1970s and it has grown continuously ever since.
Check Out Other Interested Article At Our Site OMGNepal!!!!
Feature Image Credit: https://commons.wikimedia.org/