It was 1920 when a young Asta Narayan Manadhar got a chance to ride the bicycle on the streets of Kathmandu. However, the bicycle belonged to the Rana family. Asta Narayan Manadhar is the first trader who started the business of bicycle trade in Nepal.
His first ride on the bicycle is a bit interesting. He got an accident in which he broke his legs. But the broken leg enables him to open the first bicycle shop in Nepal. His shop still exists in Ason Kathmandu and it has a century-old history to tell.
First Bicycle Shop of Kathmandu
In 1920 bicycle was something rare in the street of Nepal. Only the Aristocrats and Rana's family members used to have a bicycle and other luxurious goods. But Asta Narayan Manandhar is the first person to open the first bicycle shop in Kathmandu.
Asta Narayan visited India to bring some of the bicycles. At that time he purchases each bicycle for Rs 100 which was quite expensive at that time. He brought a bicycle from the Calcutta which is now referred to as Kolkatta.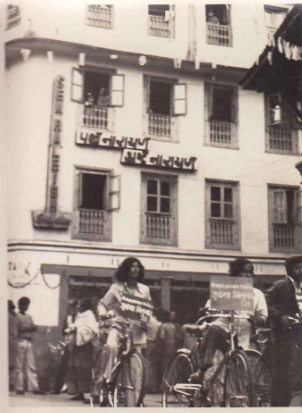 Also Read: Nepal's Education System And Pandemic
In 1925, he establishes the first bicycle shop on the ground floor of his own house in Ason Kathmandu. During the first lot, Asta Narayan only bought six units of bicycles and he started selling those bicycles in his shop called Pancha Narayan Asta Narayan.
However, the bicycle is beyond the reach of local people during that period. But the Aristocrats and Rana's family sparked the bicycle culture in Nepal. His business was so successful, that in 1934 Asta Narayan's shop started selling Raleigh bicycle. And after the successful bicycle trade, became the family business of Asta Narayan.
Evolution Of Bicycle Business
In 1950 his son Tritha Manandhar took over the firm and started to increase their family business. Later on, in 1970, Asta Narayan's grandson took over the business and he started to widen their family business across Nepal. He had a degree in mechanical engineering from Poland and he was eager to change the model of his family business.
He renames his family business as Pancha Asta Narayan Cycle. Afterward, he collaborates with India's largest bicycle company Hero. And he has a plan to set up a bicycle factory in Nepal. But his plan never came into the action due to his unfortunate death in 1982. After his death, his family continues to operate the family business.
Also Read: COVID-19, Scrub Typhus And Dengue Are In Surge In Nepal
Evolution Of Family Business In 1990 their long-running family business was drowning. Nepal started to change. The socio-economic environment of Nepal was changing at that time. Roads and highway started to being built. Therefore, people's preference was changed and people were seeking for a better option for their ride.
During that time market, demands were motorbike and cars. People started to ride bicycles only for recreational and casual purposes. However, the Manandhar family did not change their business. Currently, they sell bicycles in wholesale and retails. They even promote bicycle tours to promote bicycle riding among the Nepalese.
Visit Our Site OMGNepal To Explore More About Nepal!!!!