Blood donation brings many benefits to society as well as to blood donors. It is estimated that one donation can save as many as three lives and donating blood doesn't just benefit recipients, it also brings major health advantage to the donor too. Blood donors can reduce unnecessary body weight, keep the heart and liver healthy, and reduce the risk of cancer too. Moreover, blood donation is making it's space in Nepalese society as well.
The central blood bank periodically runs camps for Bhrikutimandap, Bhugol Park, and Asson. Such a collection center collects three pints, five pints and 15 pints in maximum and sometimes not even a single pint. However, currently due to the Pandemic blood banks are running out bloods and they have predicted that it could bring the severe issues in the health sector of Nepal.
Blood Donation Culture In Nepal
Blood donation is a kind of act that can be seen all over the nation. Mainly in Kathmandu, blood donation programs held in places like college, offices, ward office, instituts, etc. Everyone likes to donate their blood to save other person life but due to mismanagement, people often take blood donation campaigns suspiciously. However, the campaign organized by the Red Cross Society of Nepal always receives positive feedback from Nepalese people.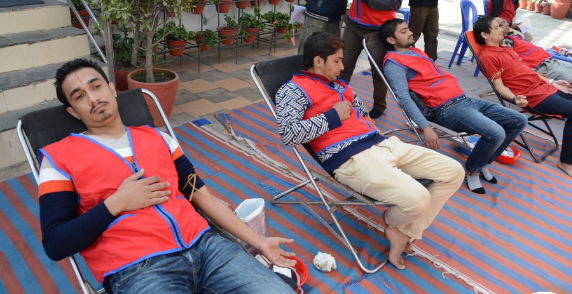 Many Nepalese people often explain their dissatisfaction regarding blood donation because they donate blood in free but in case, if someone needs blood then, they have to pay a large amount of money and even blood donors did not get blood when they need it. This raise question to the authenticity of the blood donation program held in the country.
Complains and Dissatisfaction Of Blood Donors
The blood donors are a life-saving person but the majority blood donors in Nepal complain about not getting adequate humanitarian attention neither no organizations are keeping accurate track records of those donors. So far, no recognition for their generosity is awarded to blood donors.
There are a vast number of donors who argue that the blood donation camp often held in a mismanaged and dirty places and perhaps blood donation services should be suspended in some parts of the Kathmandu Valley as they are operating in polluted areas, likeChabahil and Kalanki.
Nepal Running Out Of Blood
The ongoing lockdown has created severe problems in Nepal. Similarly, due to the Covid-19 outbreak, the blood banks are running out of stock. Nepal Red Cross Society have mentioned that they are having a shortage of blood in the treatment of the patients which has drastically increased health risks similarly as COVID-19.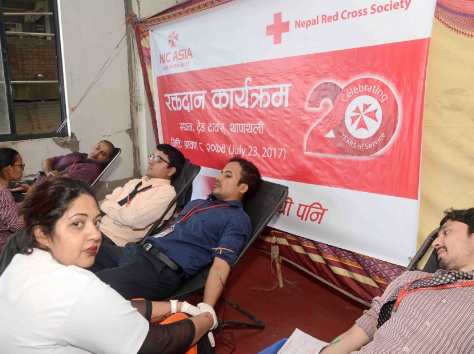 Even the majority of blood banks are worried about the blood shortage and there has not been blood supply even for the patients who require blood in frequent basis. Moreover, this had led to bring serious problems for the accident victims, obstetrics, heart and emergency surgery.
Additionally, according to officials, they are unable to supply the blood even to the patients with regular blood transfusions like cancer, kidney, and hemophilia.
Also Read: Religious Tourism Overlooked In Nepal During Pandemic
Steps To Tackle The Problem
Blood donors and social organizations have been encouraged by the Ministry of Health and Population to donate and initiate blood donation program with safety measures. The Health Ministry of Nepal has requested the concerned parties to create a healthy atmosphere for the donation of blood and to aid in the healthy donation and storage of blood as well.
Furthermore, the Red Cross Society and various blood banks are planning to collects and organized a blood donation campaigns soon. But as the Coronavirus infection is spreading in a Nepalese society like a wildfire, people are worried about their lives and perhaps, blood donation campaigns will not bring results as it used to bring before the Covid-19 outbreak.
Also Read: Is E-Commerce The New Normal In Nepal?
Current Situation
The Bhaktapur blood bank has been managing the supply of blood by reaching out to Dolakha, Sindhupalchowk, Ramechhap, and other adjoining districts and so far they've managed to supply blood to everyone who has visited them. Similarly, Hamro Life Bank helping to ease growing demands for blood, since it would make it easier to access the information of blood donors and reach out to them.
Under the statement of the health ministry of Nepal some social organizations, financial institutions and other professional organizations are planning to organize a blood donation programs just after the lockdown.
Visit Our Site OMGNepal To Explore More About Nepal!!!!